For the Sitkovetsky Trio, the challenge of recording Ravel's Piano Trio was combining three disparate solo voices to sound as one – but the reward was a performance far greater than the sum of its parts, the players tell Tom Stewart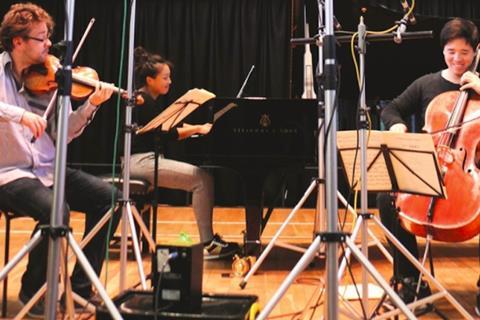 The following is an extract from our Session Report on recording Ravel's Piano Trio in The Strad's June 2021 issue. To read in full, click here to subscribe and login. The June 2021 digital magazine and print edition are on sale now.
Ravel's writing for the piano makes his works some of the most challenging in that instrument's repertoire, and, as pianist Wu Qian says, the composer's chamber parts demand a formidable level of skill. It's hardly surprising that the trio has been recorded by numerous starry combinations of players as a result.
'It's a very forward-looking piece – a pure manifestation of Impressionism,' says cellist Isang Enders. 'Getting down on the recording all the detail in the score while keeping our ensemble as tight and sympathetic as possible is incredibly challenging. Plenty of combinations of soloists have recorded it but it's the kind of music where the quality improves exponentially the more you rehearse it and get to know the people you're playing with.'
Read Session Report: Symphony of three
Violinist Alexander Sitkovetsky agrees: 'The importance of the group outweighs that of the individual, even though the parts are so demanding,' he says. 'If you prepare it in the right way it doesn't sound like three instruments but a hundred.'
One way the trio has tried to achieve this is to stick religiously to Ravel's score. 'There are so many changes of tempo and expression, but the architecture of the piece depends on them. If we all follow what he put it becomes almost a symphony,' says Sitkovetsky. Does following the composer's wishes so clearly leave room for the trio to put their own mark on the piece? 'We didn't feel limited in any way,' explains Qian. 'It actually gives us a frame in which to express even more imagination, as we're clear on the intended effect overall.' A detailed set of performance instructions, in other words, leave room for creativity but not for arbitrary decision making.
This article was published in the June 2021 Bomsori issue

The Korean violinist on graduating from the competition circuit to become an international soloist - and why singing is at the heart of her playing. Explore all the articles in this issue .Explore all the articles in this issue

More from this issue…