Characterful interpretations of Beethoven early and mature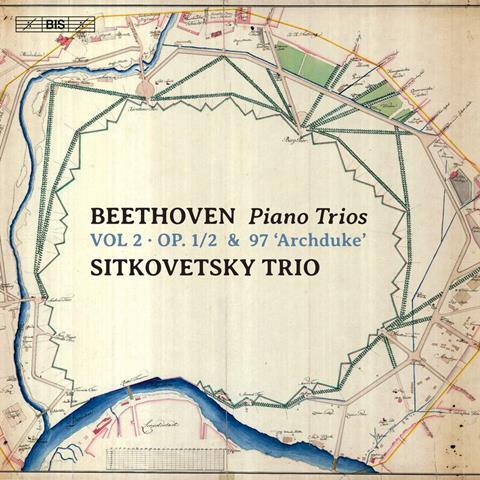 The Strad Issue: November 2023
Description: Characterful interpretations of Beethoven early and mature
Musicians: Sitkovetsky Trio
Works: Beethoven: Piano Trios vol.2: G major op.1 no.2, B flat major op.97 'Archduke'
Catalogue number: BIS BIS-2539 (SACD)
Somehow I missed the first volume of the Sitkovetsky Trio's Beethoven survey, released in 2020 to mark the 250th anniversary of the composer's birth. As with that disc, which included the early C minor Trio op.1 no.3, the lone Allegretto WoO 39 and op.70 No.2, this second offering combines a cornerstone of the repertoire with a relatively less well-known piece. Beethoven's G major Trio had always been for me the overlooked middle sibling of the three that make up the composer's op.1. Getting to know it better has been an unalloyed pleasure, and greatly enhanced by the group's refined musicianship.
I was already familiar with the playing of Alexander Sitkovetsky and Isang Enders, so the greatest revelation here was Wu Qian's multi-faceted pianism. With appropriately discreet pedalling, her sustained playing rivals that of her partners in its songfulness, while her pearly runs are beautifully clear, the piano's embellished second subject in the first movement of the G major being just one example among many. In this interpretation, the young Beethoven's work is firmly placed within the Viennese Classical tradition, while subtly underlining the ways in which he is already pushing at its boundaries. The composer's irrepressible humour is also given its due, with Sitkovetsky's witty spiccato in the finale guaranteed to raise a smile.
In the 'Archduke' Trio, written some 15 years later, the Sitkovetsky's weightier playing reflects the piece's larger frame, while refraining from placing it on a pedestal. Violin and cello blend beautifully in their many passages of thirds and sixths, Enders a satisfyingly forceful presence throughout, duly caught by the excellent recording.
CARLOS MARÍA SOLARE