Peter Quantrill gives his thoughts on a new concerto by Bryce Dessner, at the Royal Festival Hall on 3 October 2021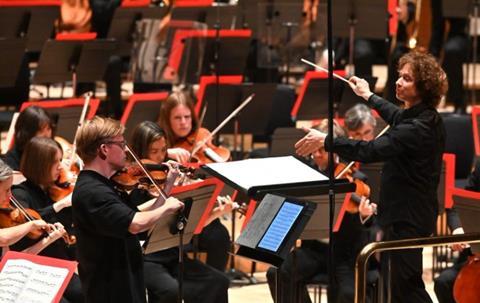 New violin concertos continue to arrive thick and fast, few of them faster than the piece commissioned for Pekka Kuusisto from the American composer–songwriter Bryce Dessner. Ostinato patterns and cross-string riffs kick in, and hardly let up through the course of a continuous, three-movement span. Kuusisto barely put down his bow. The notes for the soloist alone must run into the thousands, let alone the endlessly swirling, juddering orchestral texture.
A folk-like melody briefly emerged, then a snowline cantilena, both just as swiftly buried by the onward landslide of semiquavers. Dessner's avowed inspiration sprang from an Anne Carson tale of the pilgrimage route through France and Spain to Santiago de Compostela, and more saliently from the Finnish violinist's artistry, his energy as a performer and his assimilation of styles within and beyond the classical sphere.
A cadenza from Kuusisto introduced not so much a slow as a quiet movement. A tantalisingly brief recitativo break elicited a measure of lyric dialogue between soloist and orchestra. Then the ostinatos locked into place once more and the concerto pushed ever onwards towards one final, wide-open harmonic vista. I found greater violinistic imagination in Kuusisto's entrancing two-minute encore of a traditional Finnish tune than in the entire 27-minute concerto.
PETER QUANTRILL
Photo: Mark Allan