Bruce Hodges attends New York's Broadway Presbyterian Church on 16 September 2022 for a performance of works by Julián Carrillo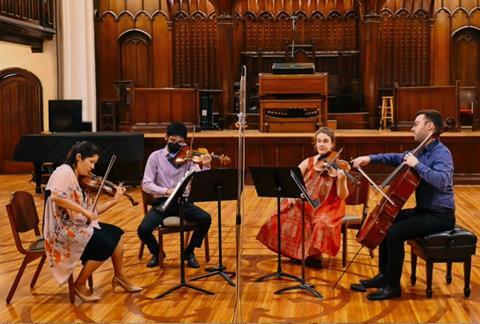 Over the past few years, the Momenta Quartet has championed the string quartets of Mexican composer Julián Carrillo (1875–1965), known for creating a theory of microtonal composition called Sonido 13 (Thirteenth Sound). On the second night of the ensemble's four-night festival (delayed owing to the pandemic), the musicians marked Mexican Independence Day on 16 September with two stunning examples of his work.
Dating from 1937, no.5 is an early quartet – not microtonal though it sounds as if it could be – which opens with a luxurious splash for the ensemble, before plunging into the composer's world of trills and torrential scales. Though the work is atonal, at one point a waltz sequence appears with surprising echoes of old Vienna. The instrumental hues tickled the ear, helped by the musicians' immaculate polish.
By the time of no.11 (1962), Carrillo was in full quarter-tone mode, and its three movements show a refined, compressed energy – at times kept at bay, but at others allowed to explode. The microtones produce even more brilliant colours, with a relentless tangy edge. And it has to be said: though the intonation demands are extraordinary, the foursome kept everything pristinely tuned. Imagine a violent descending scale – all in quartertones – with the musicians creeping down in close chords, and you get a hint of the difficulties.
As a postscript, this past summer, the ensemble – which consists of violinists Emilie-Anne Gendron and Alex Shiozaki, violist Stephanie Griffin and cellist Michael Haas – has recorded Carrillo's quartets nos.5, 6, and 13, as part of a complete survey of all 13 quartets for Naxos.
BRUCE HODGES
Photo: John Gurrin