Leah Hollingsworth attends a recital of Bach violin sonatas at New York's 92Y on 8 June 2022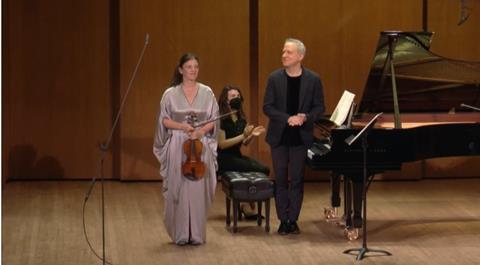 Maria Włoszczowska made a stunning New York debut with all six of Bach's Sonatas for violin and keyboard BWV1014–19. Playing with a period bow and a modern violin set-up, she achieved a sustained and deep sound that could hold its own against the Steinway grand, using varied bow speeds to good effect. Her vibrato was sparingly applied, allowing the sound to blossom at key moments.
The opening B minor Adagio was not too slow, with a warmth to the sound. The fast movements of this First Sonata had elegance and clear articulation, tripping along daintily but never feeling rushed. The Andante of the D major had some effective colour contrasts, while its final Allegro was suitably sprightly. While Włoszczowska often produced a bright, almost edgy sound with occasional 'noise' on the attacks in the faster movements, her energy more than made up for any lack of cleanliness. Bach's Third Sonata in A major was a highlight, given imaginative ornamentation in the Adagio and a brilliantly dispatched Presto. The E flat major Adagio of the Fourth Sonata was daringly spacious, especially as it followed an adrenaline-filled C minor Allegro. Jeremy Denk's contribution throughout was superb.
The final sonata, in G major, had a jubilant opening movement played with joy and energy. Denk's playing in the mostly solo Allegro middle movement was wonderfully stylish and the closing Allegro drew from both musicians tremendous energy and brilliant articulation; the entire audience gave a well-deserved standing ovation, to which the duo responded with a reprise of the C minor Largo from the Fourth Sonata.
LEAH HOLLINGSWORTH