Leah Hollingsworth attends the performance at Alice Tully Hall on 10 July 2019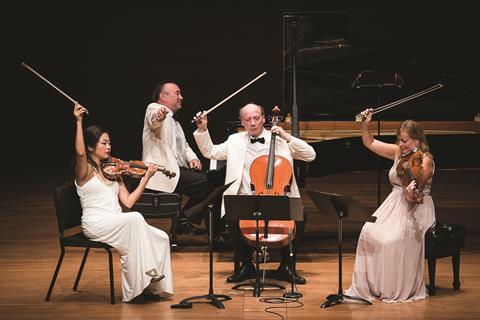 The Chamber Music Society of Lincoln Center presented a lovely concert of less familiar works by familiar composers this month. Schubert's String Trio in B flat major D581 opened with some beautiful moments, especially in the artists' colouring of the harmonic changes. The Andante boasted tender playing not just from violinist Kristin Lee, but also in the way violist Richard O'Neill and cellist Clive Greensmith approached the accompaniment. Each supportive note had direction and was played with care; nothing was casual or tossed off. The sunny opening of the third movement gave way to an imaginative and characterful viola solo by O'Neill and the piece finished with a surprising bit of passion in the midst of a charming Rondo.
Dvořák's Piano Quartet in D major op.23 followed. The captivating cello solo at the beginning set the stage for a delightful performance by four artists who each possess gorgeous and rich individual sounds but who came together to create a beautiful, smooth-as-silk ensemble blend. I thoroughly enjoyed the many characters of the Andantino movement and was quite taken with Lee's nostalgic and elegant approach in the opening of that movement. The quirky Finale was convincingly done and played with much poise; all the artists came together to create long phrases despite the score.
Sextets abound in summer festival programmes, but Mendelssohn's Piano Sextet op.110 was a delight to hear. I loved the depth of the bass paired with the two violas and cello and balanced by the grace and agility of the piano. The performance was jubilant and joyous, and I particularly enjoyed the effusive and effervescent piano playing by Jon Kimura Parker in the Allegro vivace, as well as the overall approach of the ensemble – the performance was thoughtful but not overwrought, and precise but not fussy.
LEAH HOLLINGSWORTH