Tim Homfray hears the performance of Britten's Violin Concerto at London's Royal Festival Hall on 19 May 2022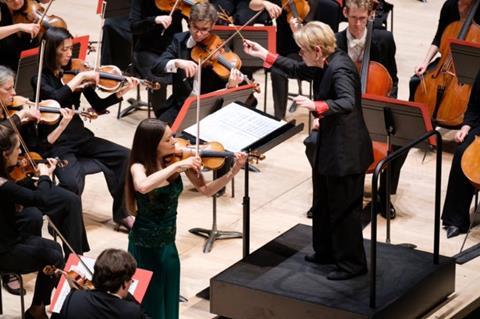 Arabella Steinbacher moulded the plaintive opening paragraph of Britten's Violin Concerto with increasing power and expression as she headed for the first climax and the leaping angular passage that follows. She produced splendid gymnastics on the G string in the agitato second subject, and focused silvery tone in the later arabesques. There was fierce rhythmic punch at the outset of the Vivace second movement, with biting accents, and the central melody was slinky and sultry, its portamentos positively indecent-sounding. She dispatched the disjointed phrases of the cadenza with real dramatic intensity.
In the great extended soliloquy of the Passacaglia finale the emotional temperature grew steadily as her playing became increasingly intense and muscular, with some lilting dance en route to the mighty tutti. Her playing in the final pages was steady and relentless, with an aggressive outburst high on the G string, before settling into the last, uneasy repose. It was all accomplished with formidable technical command and a sure grasp of Britten's broad musical arcs. Marin Alsop with the Philharmonia provided sensitive musical partnership, full of colour and nuance, in which the brass was particularly fine.
TIM HOMFRAY