Charlotte Gardner watches the trio perform at London's Wigmore Hall on 31 January 2022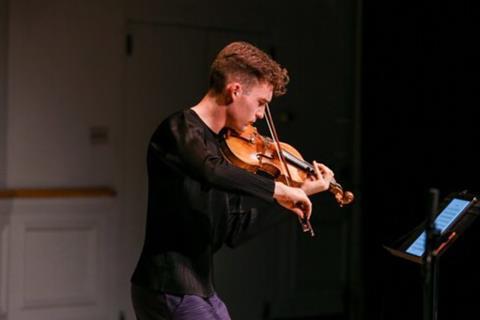 Schubert himself may well have met the only half-full Wigmore Hall for his 225th-birthday concert with a weary shrug, yet the low turnout did feel distinctly wrong in the light of such wall-to-wall perfection. First, the Arpeggione Sonata had Daniel Müller-Schott displaying a weightlessly singing lyricism rarely heard from cellists in this work. Equally striking were its dynamic extremes and even the odd tweak to the score. For instance, the marked rallentando and accelerando inserted into the first movement's whispered closing phrases are not what's written, but were inarguably effective.
Perhaps the evening's most beautiful surprise was the Violin Sonatina in D major D384, a work that can sound a little inconsequential, but which here was shot through with both youthful optimism and vulnerable beauty: from Alexi Kenney, a crisply articulated, light, dry sound of a bewitching grace with the barest hint of vibrato; from Piemontesi, a shared sense of purpose and impeccable balance.
To end, Schubert's Second Piano Trio, a perfect mix of darkness and light, fragility and power; here Piemontesi was notably light on the sustaining pedal, his pearly brightness a beautiful foil for the drier string sound. The whoops that met their final chord were richly deserved.
CHARLOTTE GARDNER