German cellist brings an international feel to collection of Gallic works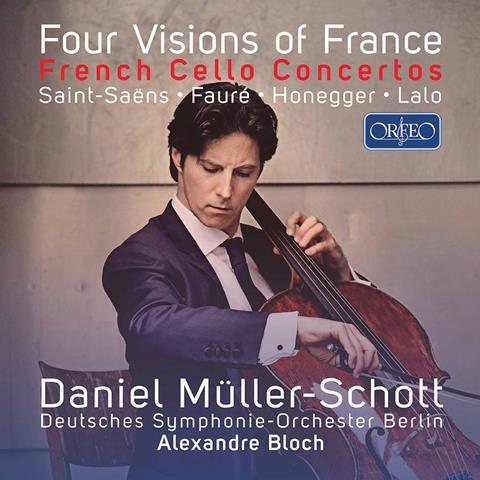 The Strad Issue: December 2021
Description: German cellist brings an international feel to collection of Gallic works
Musicians: Daniel Müller-Schott (cello) Deutsches SO Berlin/Alexandre Bloch (conductor)
Works: Saint-Saëns: Cello Concerto no.1 in A minor op.33; Romance in F major op.36. Honegger: Cello Concerto. Lalo: Cello Concerto in D minor. Fauré: Élégie
Catalogue number: ORFEO C988211
Despite the disc's title, the composers' visions feel just as much German, Spanish or American as French. Nonetheless they make an interesting juxtaposition in Müller-Schott's Gallic foray. The Munich-born cellist whips up a storm at the start of Saint-Saëns's Concerto. This is a taut and vigorous performance, the outer movements taken at quite a lick, with the finale's semiquavers unbelievably fast. His bowing is silky smooth in the Allegretto, the first phrase beautifully expansive.
Honegger's Concerto makes an intriguing centrepiece. Müller-Schott relishes its jazz passages, easing into the notes from below, enjoying its many quirky moments and making the lively finale buzz with rhythmic energy. Fauré's orchestral accompaniment adds much to the expressiveness of the Élégie. The cello theme is deeply moving and on its third hearing Müller-Schott adds a morbid, depressive touch with a well-chosen glissando between its first two notes.
In Lalo's Concerto, the solo cello is not sufficiently to the fore in the first movement when contrasted with the orchestra's loud interjections, in this otherwise well-balanced, up-front and clear recording. Its grand gestures and declamatory, recitative-like passages are accomplished with dignity. Saint-Saëns's Romance ends the disc with a message of consolation, as Müller-Schott spins out its long, lyrical melody with the warm sounds of his 1727 Gofriller cello.
JANET BANKS