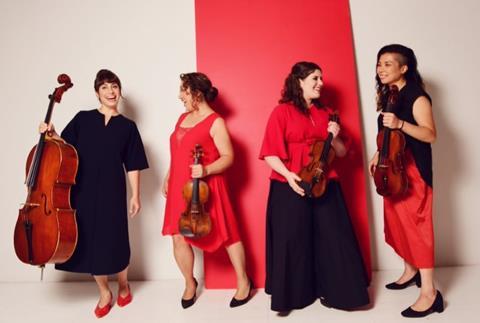 Aizuri Quartet
Perelman Theater, Kimmel Center 12 February 2023
A Clara Schumann song, 'Ich stand in dunkeln Träumen' (I Stood Darkly Dreaming), arranged by Karen Ouzounian – cellist of the Aizuri Quartet – began this programme exploring the subject of darkness to sunrise. And, with its gentle melancholy, it made an apt prelude to the almost shocking impact of Bartók's Fourth Quartet.
Dark colours abound in the Bartók and here they were given with meticulous attack, rhythmic crispness and textural variety. In contrast, the delicate second movement – prestissimo, with mutes – flickered like a cloud of fireflies. The pizzicato fourth movement emerged as an axis of night timbres. But, whatever imagery might come to mind, the foursome were fearless throughout.
From composer Tanya Tagaq came Sivunittinni (2015), originally commissioned by the Kronos Quartet. Its gutteral ferocity is sometimes countered by moments of pale daylight, but Tagaq said in her notes that she meant it as 'a little bit of a wake-up' about the human condition. That's exactly the tone the Aizuri found.
Sivunittinni made a fine contrasting preamble to the last work: Haydn's String Quartet op.76 no.4, the so-called 'Sunrise'. For the ensemble to switch so smoothly and effortlessly from Tagaq's angular, socially conscious message to Haydn's blissful flights of sunlight spoke volumes about the group's chameleonic persona. On offer here was not only enthusiasm, but a salon-suitable stateliness and elegance, plus exacting attention to the composer's rhythmic playfulness.
BRUCE HODGES
Photo: Shervin Lainez