Tim Homfray attends the live performance at the Barbican, London, on 19 June 2021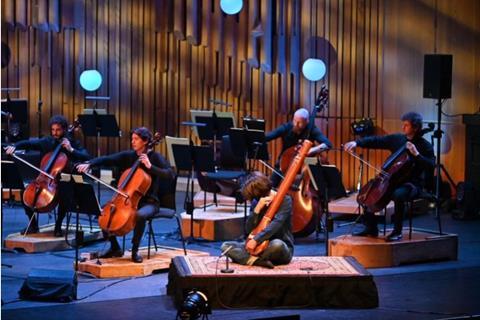 The main work here was Shostakovich's Chamber Symphony which, the programme failed to mention, is an arrangement of his Eighth String Quartet (no mention of the arranger either – presumably Rudolf Barshai). Before it the 12 Ensemble, conductorless and safely spaced, was joined by a group of wind, percussion and electronics for two new works: Anna Meredith's Moon and Jonny Greenwood's Water.
Meredith's work was quite an event, with five movements based on Native American names for the full moon, accompanied by her sister Eleanor's live illustrations and lit by globes that kept changing colour. There were a lot of ostinatos, with some stately melodic playing and later fast rasping tremolos, descending scales and syncopations. Greenwood joined them for Water, sitting at the front playing a tanpura. Here were more ostinatos, as well as ethereal harmonies, with slow-moving lines, interrupted by an outbreak of spirited pizzicato. It featured an extended violin solo played with crystalline purity of tone by Eloisa-Fleur Thom.
She played beautifully in the Chamber Symphony as well, emerging from the tutti of the first movement in a solo of rhythmic freedom and keening expression. The second movement had symphonic power and ferocity. There were a few ragged moments in the third, understandable under the circumstances; the massive chords had granitic weight, and the final Largo was bleak indeed.
TIM HOMFRAY