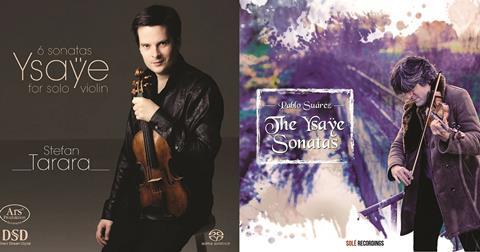 The Strad Issue: March 2018
Description: A dozen Ysaÿe solo sonatas make a thoughtful comparison
Works: YSAŸE Sonatas for solo violin op.27
Stefan Tarara: RS PRODUKTION ARS 38 241
Pablo Suárez: SOLÉ RECORDINGS SR 0005
Stefan Tarara's playing is nuanced and thoughtful. In Ysaÿe's First Sonata he draws you in immediately, making the music mysterious. In the fugue he makes it clear this leads in a straight line back to Bach, with beautiful contrapuntal voices and a constant variety of tonal colours. In the Second Sonata he neatly differentiates the Bach quotations from Ysaÿe's robust rejoinders, and plays the early variations of the 'Danses des ombres' with great purity of tone before letting rip in the final Allegro furioso. In the Third Sonata, Tarara has unforced tonal beauty, and the sheer accuracy of his playing in the Fourth is astonishing. At the opening of the Fifth, the hushed, impressionistic strangeness is captivating, and the 'Danse rustique' has robust authority. By the time the Sixth has finished, with its tremendous rhetorical style, you can be in no doubt that Tarara is a very fine player indeed.
Pablo Suárez, also technically superb and musically accomplished, doesn't quite match up. He begins with no.6 for some reason, played in very attacking style emphasised by the close-up recording. No.2 is somewhat mechanical and one hears in the 'Malinconia' second movement a constant feature of his playing, which is to break up the melodic flow. This is more apparent in no.1, despite nicely articulated phrasing at the beginning. The exciting rhythmic kick in no.3 doesn't really happen. In no.5 he ignores most of the staccato markings in the semiquaver passages. He is very good, but Tarara has the edge.
TIM HOMFRAY