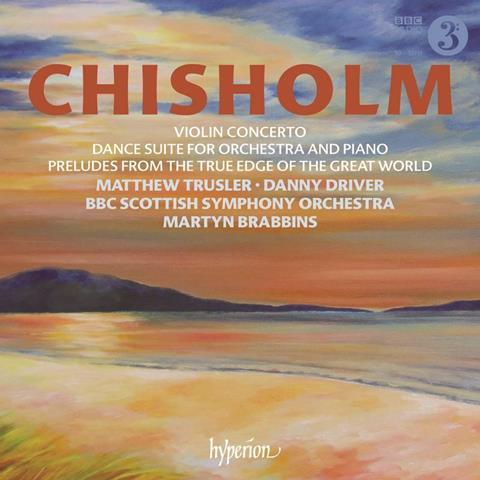 The Strad Issue: October 2017
Description: Little-known 20th-century violin concerto casts a dramatic spell
Musicians: Matthew Trusler (violin) Danny Driver (piano) BBC Scottish Symphony Orchestra/Martyn Brabbins
Composer: Chisholm
Catalogue Number: HYPERION CDA 68208
Here's a neglected voice in 20th-century British music – and on the evidence of a growing library of Hyperion recordings, unfairly so. Born in Glasgow, Erik Chisholm (1904–65) served in India at the end of World War II, and encountered there the Hindustani musical culture that would cast a rhythmic spell over much of his later work, including this bitingly dramatic, four-movement Violin Concerto from 1950. Opening with a spacious and darkly glowering passacaglia in the vein of Bartók's night music, the concerto proceeds through an edgy, needlepoint scherzo and a fragile song without words towards 'a fugue without a theme'.
These are all novel but appreciable transformations of classical forms, and of obvious appeal to any listener who enjoys the Walton, Shostakovich and Prokofiev concertos.Without the shadow of historical comparison cast over him, Matthew Trusler is an even more persuasive soloist than in the Prokofiev concertos (reviewed last issue), often taking down his tone to the merest sliver, while advantageously balanced in this Glasgow City Halls recording.There's more athletic solo writing in the piano-concertante Dance Suite. Three preludes originally conceived for solo piano also weave Indian and Scottish Highland idioms to unlikely effect, lighter in mood but no less felicitously orchestrated. PETER QUANTRILL