Eloquence and flair make these generous performances a must-hear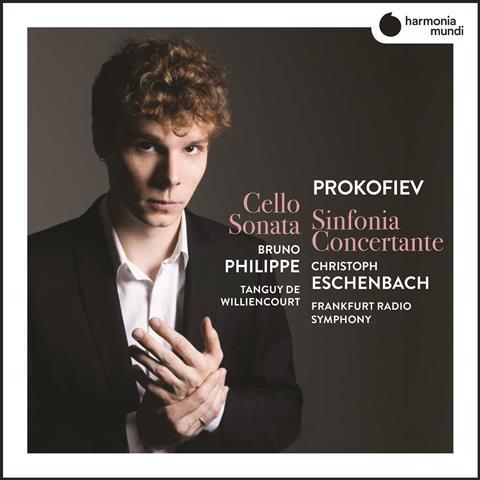 The Strad Issue: February 2020
Description: Eloquence and flair make these generous performances a must-hear
Musicians: Bruno Philippe (cello) Tanguy de Williencourt (piano) Frankfurt Radio Symphony Orchestra/Christoph Eschenbach
Works: Prokofiev: Sinfonia Concertante in E minor op.125; Sonata in C major for cello and piano op.119
Catalogue Number: HARMONIA MUNDI HMM 902608
Bruno Philippe plays the opening paragraph of Prokofiev's Sinfonia Concertante in a full-toned generous sweep. Soon after, he weaves the complex, multifaceted cello writing into a compelling narrative with an easy flow, the long melismatic passages fluent and eloquently shaped.
He scurries splendidly through the semiquavers that open the second movement Allegro giusto, and the up-bow staccatos are bone-dry but always tonally focused. The great central melody is beautifully played, and Philippe brings theatrical flair to the double-stopped cadenza. He tackles the formidable technical challenges in this long coruscating movement with aplomb. There is plenty more virtuosity to come in the finale, in which Philippe brings out Prokofiev's grotesquerie and humour. The orchestra is superb in character, colour and finesse, under the sensitive direction of Eschenbach.
In the Sonata op.119 Philippe produces a steady, lugubrious legato in the extended lyrical lines of the first movement, and builds surely to the gymnastics of the più mosso ending. The central movement has gentle levity and naivety, with the cellist again showing his graceful way with Prokofiev's melodic lines in the Andante Dolce section, and the finale is amiable, with subtle and understated sophistication. Tanguy de Williencourt is a superb partner. The recorded sound of both works combines clarity and warmth.
TIM HOMFRAY