Carlos Maria Solare examines Rachael Durkin's scholarly work about the early stringed instrument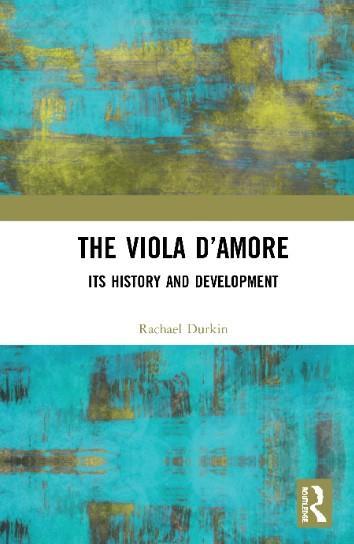 The Viola d'Amore: Its History and Development
Rachael Durkin
Routledge 193PP
Hardback: £96 ISBN 9781138358966
E-book: £29.59 ISBN 9780429433993
As a rule, research on the viola d'amore has been undertaken – not inappropriately – as a labour of love, by players wishing to find out more about this uniquely fascinating instrument and the music written for it. In her introduction to this publication Rachael Durkin acknowledges the books of Harry Danks (1976) and Heinz Berck (2008) as the standard works on the subject, although since neither was a musicologist, Durkin can claim to have written 'the first scholarly study' of the instrument.
The viola d'amore was first mentioned in 1649 in Hamburg, and its earliest detailed description stems from a 1679 entry in John Evelyn's diary: it is an instrument 'of 5 wyre-strings, plaied on with a bow… Lyra-way' (i.e. varying tunings were used and the music was written in tablature, as with the lyra-viol). Wire strings – otherwise used only on plucked instruments – were the viola d'amore's distinctive trait before it acquired the sympathetic strings we associate it with today. The instrument's beginnings need to be pieced together from isolated, sometimes contradictory reports that can't always be unequivocally related to the actual instruments that have come down to us. For the most part, Durkin is a reliable guide through the terminological maze, but I do take exception to her rather bizarre interpretation of the German words 'englische' and 'englisch', which she translates respectively as 'English' and 'angelic' (both can mean one or the other, the different endings having grammatical reasons). We may never know for sure whether the phrase 'das englische Violet' is a poetical description of the instrument's sound or just indicates its country of origin (to compound the problem, the name was variously Italianised as 'viola angelica' and 'viola all'inglese'!)
The book's central chapters provide much valuable information about the viola d'amore's relationship to the aforementioned englische violet and other sympathetically strung instruments such as the baryton. A copious and well-reproduced iconography – photographs and historical drawings – illustrates the instrument's manifold patterns, soundhole shapes and ways of securing the sympathetic strings. The final chapter on the viola d'amore's revival in the 19th and early 20th centuries somewhat insularly concentrates on the work done by Arnold Dolmetsch and Montagu Cleeve in England, while relegating the instrument's Continental advocates – Louis van Waefelghem and Paul Hindemith among them – to passing mentions. Examining the instrument's role within historically informed performance practice, Durkin rightly points out that, with such an instrumental variety, one would ideally need 'a clutch of violas d'amore of different stringings… for the Baroque era alone'. This is just one of the reasons for the fascination the viola d'amore continues to exercise on string players, and this book is a valuable addition to our knowledge about it.
CARLOS MARÍA SOLARE