Carlos Maria Solare reviews a book dedicated to the celebrated viola teacher, born 100 years ago this year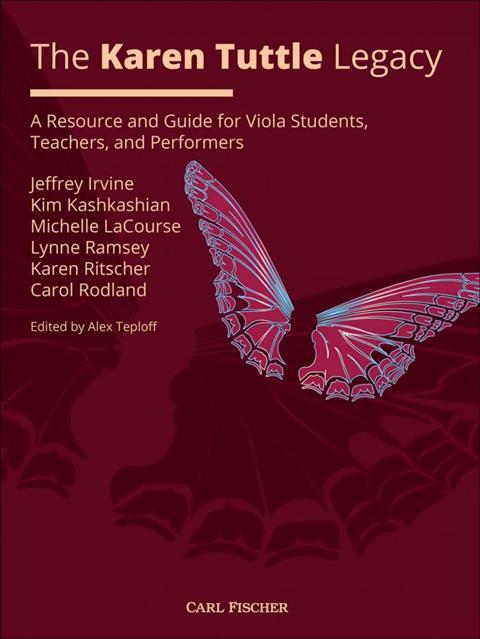 The Karen Tuttle Legacy. A Resource and Guide for Viola Students, Teachers and Performers
Jeffrey Irvine, Kim Kashkashian, Michelle LaCourse, Lynne Ramsey, Karen Ritscher, Carol Rodland
Ed. Alex Teploff
178PP ISBN 9781491157411
Carl Fischer $34.99
Karen Tuttle, the centenary of whose birth was celebrated in these pages in March this year, developed a pedagogic system which she called 'Coordination', a holistic approach to playing (not just) the viola in as natural a way as possible by getting rid of all superfluous tension and coordinating bodily movements with the moulding of musical phrases. The present volume is a successful attempt to convey this approach as experienced by six former students, who worked with Tuttle at different points of her six-decades-long teaching career. The book has been carefully edited to avoid repetitions; not all of the authors speak on every subject, and they cross-reference each other for explanations of various concepts essential to Tuttle's methods. Thankfully, their individual voices haven't been editorially assimilated, and so we meet six different individuals who eloquently relate their personal experiences working with Tuttle.
The book is organised in 15 chapters that focus on every technical aspect of playing the viola, starting with finding a balanced posture that will allow every movement to take place flexibly, being preceded and followed by a 'release' of tension. Tuttle's general concepts about the left hand's frame are explained, followed by descriptions of her ideas about finger action (fingers 'plopping' down on to the string), shifting (fast, light shifts or the 'inch-wormy' kind for expression), double-stops (opening the hand by reaching down from the 'upper' to the 'lower' fingers), trills and vibrato (a 'rocking' of the finger pad).
The plot starts to thicken, so to speak, in the book's second half, which deals with the right hand. It is here that the most characteristic concepts of Tuttle's method are introduced, culminating in Chapter 15, 'Coordination'. The reader becomes familiar with the terms 're-pull' (a kind of second down-bow one third of the way along the bow) and 'over-the-bow' (its upper half opposite number), and how they need to alternate with 'releases' of tension. A tantalisingly few music examples from the viola repertoire finally demonstrate the use of these means to shape a musical phrase.
Among them, the book's co-authors give the reader as many tools as is possible to do in printed form to enable a hands-on acquaintance with a way of playing they profoundly believe in. One of several appendices lists videos about different aspects of 'Coordination' available on the Internet, a useful addition to the numerous, well-reproduced illustrations included throughout the book. Also included are several archival interviews with and about Tuttle, as well as a listing of her regrettably few recordings. A previous publication – Karen Tuttle's Heritage. The Theory and Practice of Co-ordination, privately published in 2008 by Tuttle's 'grand-student', Emmanuella Reiter – covers much the same ground in a more compact format and is a nice complement to the present, definitive overview of Karen Tuttle's life's work.
CARLOS MARÍA SOLARE