Celia Cobb reviews Doug Spata's book of pizzicato works for string orchestra, including a teacher's edition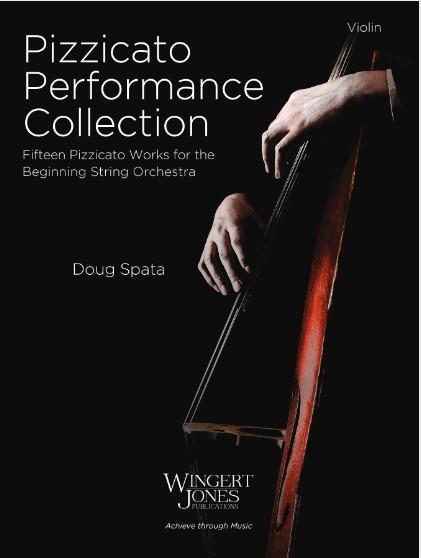 Pizzicato Performance Collection: Fifteen Pizzicato Works for the Beginning String Orchestra
Doug Spata
Violin: 16PP ISBN 9781644020968 $7.99
Viola: 16PP ISBN 9781644020975 $7.99
Cello: 16PP ISBN 9781644020982 $7.99
Double bass: 16PP ISBN 9781644020999 $7.99
Teachers edition: 148PP
ISBN 978164402-0951 $29.99
Wingert-Jones Publications
Pizzicato Performance Collection is a group of 15 pieces, all of which are intended to be played pizzicato, and they progress in difficulty in an interestingly systematic way. The first few pieces just use open strings, and as the book continues, the pieces use open strings and only one other finger, then open strings and two fingers, but – and this is where it gets interesting – although the notes used are all in the standard first-position basic finger pattern, none of the pieces actually use a full major scale or even a tetrachord in any of the string parts. This gives the music a quirky, interesting and perhaps more 'grown-up' sound than some first string orchestra collections, and this may well appeal to students who are tired of the relentless chirpy happiness of do-re-mi-style tunes found in many beginner methods.
The string parts are more or less in unison, with adjustments for E strings and C strings, and as always in unison playing for beginner strings, some compromises have had to be made, mostly in the bass part. The final number in the book, the aptly named 'Bid You Adieu' has a sweetly comical feel to it, caused by deliberately abrupt dynamic mismatches between the piano accompaniment and the strings.
The Teacher's Edition contains a full score and separate accompaniment parts for piano and drum kit, as well as a download code for backing tracks on the publisher's website. As well as the piano and kit accompaniments, synthesised pizzicato strings are included on the tracks, which some players may find helpful as they navigate their way through for the first time; it might also have been good to have had the option to play along with the accompaniment alone.
The pieces are typically between one-and-a-half and two minutes in length, which doesn't sound long until you attempt to play and rehearse any of them with a group of children and are faced with a chorus of complaints about hurting fingers, bursting blisters and the like. Though the book is aimed at beginners, it might be better suited as material for slightly more experienced groups to use as sightreading and general ensemble practice. The upbeat tempos of many of the backing tracks make them difficult for little fingers to pluck, but older players would rise to the challenge more successfully, and the collection could provide a useful opportunity for them to focus on their note-reading skills and rhythmic accuracy. Every piece contains clear dynamic contrasts, and at least one small section of rests to count, which also provides great training opportunities for ensemble skills. In addition, older children might enjoy the challenge of adding some arco instructions and deciding on bowings, as well as just using the book to hone their pizzicato skills. I am sure that many ensemble leaders will find this book to be a useful collection to dip into occasionally to supplement their regular resources.
CELIA COBB