Max Grosch reviews Tim Kliphuis's new guide to improvisation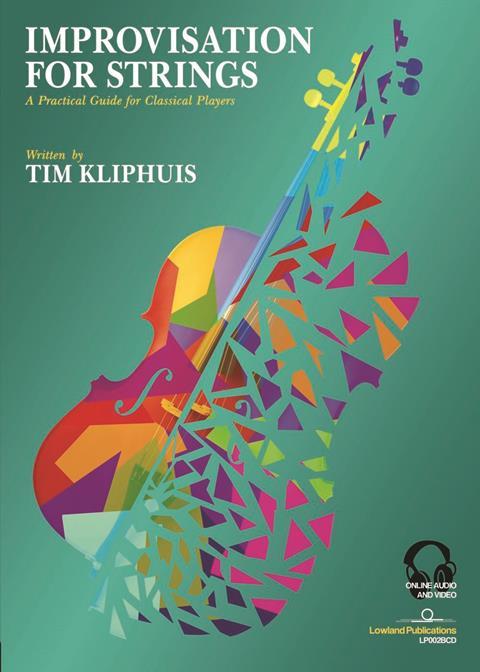 Improvisation for Strings
Tim Kliphuis
72PP ISBN 9789082968408
Lowland Publications €25
The art of improvisation has been more or less stripped out of traditional string training and teaching. It is not as easy as one might think to coach musicians in this area, as string players are not necessarily the musicians most apt to create their own music these days. So it is all the more refreshing and highly beneficial to find publications such as Improvisation for Strings by Tim Kliphuis, regarded as one of the leading string players of his kind. Kliphuis, who has toured with many of the gypsy jazz greats, but is just as proficient in folk, classical and modern improvised music, is not only living an in-demand life as a performer but also leading improvisation programmes for string players at conservatoires in Amsterdam and The Hague.
This publication gives a very gentle yet motivating approach for players wanting to experience improvisation at their individual levels. In the first part Kliphuis introduces some very beneficial routines to 'improve your live command of the instrument', as he calls it. It is particularly nice to see an early emphasis on improvisational games, in which the true pleasures of improvisation are addressed: playing, listening to and communicating with others in the moment. One exercise leads beautifully to the next, and each is nicely explained and demonstrated in videos available for download. Additional downloadable audio tracks explain and provide playalongs on certain topics. Other chapters cover the basics necessary to deal with improvising, such as rhythm, beat, pulse, bowing topics such as ghosting notes, syncopation, swing, groove, cross-rhythms and clave. Here it is commendable that the author shows strong background knowledge on all sorts of topics without getting hung up on details.
Leading tone, blue note, diminished, pentatonic and modal exercises help beginners get in touch with techniques and language issues that will help them develop skills in the jazz idiom, if interested.
Kliphuis concludes with the advice to take the art of writing and creating music out of classes and make them part of lessons and practice routines. Improvisation is a crucial tool for this, and now that more players are offering it in their performances, audiences can be introduced to a more lively, in-the-moment creation of music. I could not agree more and see great benefits in attracting more people to playing music and attending live performances in general.
If you as a string player are interested in taking the next step to more creativity, writing or arranging music for your ensemble, bringing improvisatory elements into your practice routine or even stage performance, this is a book that should take up space in your library.
MAX GROSCH