Ruth Hallows reviews cellist Kenneth Wilson's account of cycling from the UK to Rome with his instrument in tow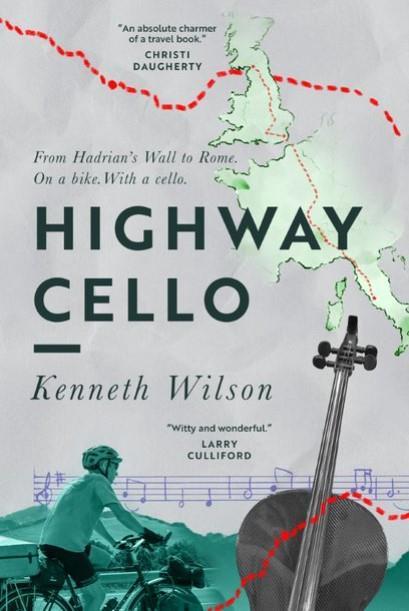 Highway Cello
Kenneth Wilson
308PP ISBN 9781739318208
City Village Books £10.95
When news came in 2022 that the poet, cellist, ex-vicar and reformed vegetarian Kenneth Wilson was travelling from Cumbria to Rome by bicycle with his cello, 'Libre', tightly strapped into a trailer behind, it sounded too bizarre and brilliant to be true. Now safely back from his adventure, Wilson has written about his experience in his book, Highway Cello. Written in diary form, it has all the familiar, informal, free-flowing chat that makes the reader connect with Wilson on a personal level. Unfortunately, as with any story from a friend, its repetitions and deviations veer off almost as often as his unruly GPS. But once this heart-warming tale has finally settled on a beginning (Wilson tries three, by the way), the reader is taken on a beautiful journey through vast countryside and European cycle paths with plenty of talk about the weather.
Despite some of the desperately uncomfortable routes Wilson has to endure, one can't help but admire this treehouse owner and feel somewhat resentful of his confidence to take his cello out at any given moment. The book tells of some beautiful busking moments with great imagery such as performing The Swan alongside a babbling brook, or Bach in the ruins of an old abbey.
Sadly, these moments of tranquillity are cruelly interrupted by some difficult bumps in the road. An overshare about past teachers, an over-complicated process of cello selection, and a laboured conversation about the gender of cellos (and I speak as a cello namer myself) slow the book down making it hard to push through to the end. But for those moments of pure scenic splendour in a truly spectacular journey, Highway Cello is almost worth persevering with.
RUTH HALLOWS