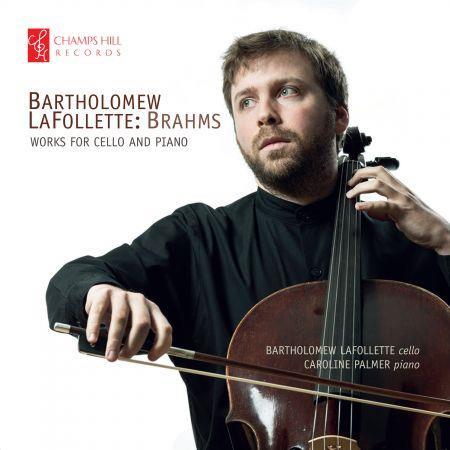 The Strad Issue: November 2017
Description: High-quality Brahms in cellist's debut recording
Musicians: Bartholomew LaFollette (cello), Caroline Palmer (piano)
Works: Brahms: Cello Sonatas: no.1 in E minor op.37, no.2 in F major op.99; Four Serious Songs (arr. Shafran); Hungarian Dance no.20 in E minor
Catalogue Number: CHAMPS HILL RECORDS CHRCD134
Like many cellists, Bartholomew LaFollette expresses that he has a sense of coming home when he plays the two Brahms cello sonatas, which he has chosen for his debut recording. He also grew up listening to his British–American parents performing the Four Serious Songs, and here plays these sombre works in Daniil Shafran's arrangement, shading his sound with all the subtle nuances of the human voice.
LaFollette gives engaging interpretations of the sonatas, keeping the pace up and never succumbing to the temptation to wallow. There is plenty of fire in the first movement of the E minor, and a poignant feeling of peace and acceptance towards its close. In the fugal finale he relishes the wide intervals, making them seem massive, and his highly focused tone penetrates the busy piano writing well.
The opening of the F major Sonata soars inspiringly and there is a sense of weight and import to the whole movement. The dolce at the end of the Adagio is heart-wrenching, and the scherzo's chromatic theme takes on a threatening and almost sinister air. The recording, made in the music room at Champs Hill in Sussex, is of a very high quality, with every detail of the timbre of LaFollette's 1841 Dollenz cello rewardingly audible.
JANET BANKS