Rhapsody in abundance from a classy line-up of musicians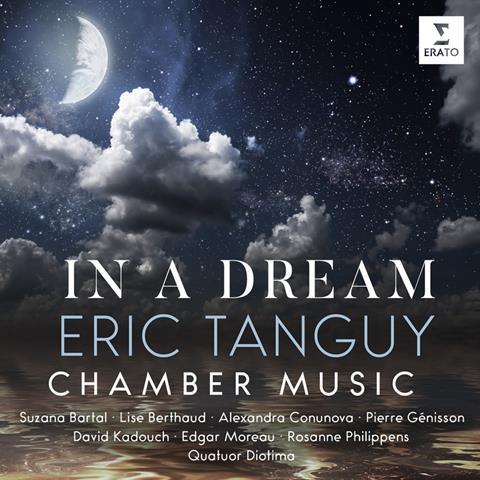 The Strad Issue: July 2022
Description: Rhapsody in abundance from a classy line-up of musicians
Musicians: Alexandra Conunova, Rosanne Philippens (violins) Lise Berthaud (viola) Edgar Moreau (cello) Pierre Génisson (clarinet) Suzana Bartal, David Kadouch (pianos) Diotima Quartet
Works: Tanguy: Piano Quintet; In a Dream; Spirales; Nachtmusik; Rhapsodie; Sonata breve; Lacrymosa; Piano Trio
Catalogue number: ERATO 0190296355660
Composer Eric Tanguy is a prominent figure in his native France, though less well known elsewhere. For anyone new to his lyrical, rhapsodic music, however, this eloquent survey of his chamber works – much of it performed by its dedicatees – is an excellent place to begin.
Tanguy writes very much in the tradition of Dutilleux and Messiaen, and wears those influences with pride. They are much in evidence in the disc's opening Piano Quintet, which the Diotima Quartet and pianist Suzana Bartal (also Tanguy's wife) deliver with a beguiling mix of vigour and fantasy. The Diotima players are wonderfully syrupy in some of Tanguy's slower, more luscious music, though nicely crisp and energetic in the more forthright passages.
Elsewhere, violinist Alexandra Conunova offers a rich, throaty account of Tanguy's bluesy In a Dream, and she's joyfully spirited in his solo Sonata breve, which collides together gypsy-style exuberance with driving, almost Adams-like rhythms to thrilling effect. There's an entrancing buoyancy to violist Lise Berthaud's Rhapsodie, and she's effortlessly agile across Tanguy's angular, widely spread melodies. Cellist Edgar Moreau is sometimes rather overshadowed by Bartal's assertive piano playing in the dashing energy of Spirales, but delivers a high-definition, characterful account all the same.
He returns – with violinist Rosanne Philippens and pianist David Kadouch – for a remarkably sensitive performance of Tanguy's Piano Trio, capturing the composer's Messiaen-like languour brilliantly, while conveying the over-the-top exuberance of the work's climax with an appropriate sense of abandon. Tanguy's heavily perfumed harmonies and rhapsodic inventions might benefit from being sampled in smaller doses than a full, 75-minute disc, but there's no doubting the conviction and commitment here, captured in warm, close sound.
DAVID KETTLE