The Austrian ensemble will receive the award worth €10,000 at a ceremony on 8 December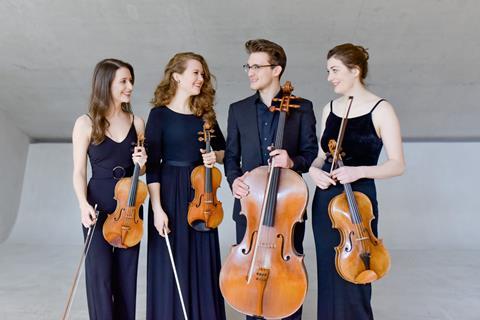 The Austrian Javus Quartet, comprising violinists Marie-Therese Schwöllinger and Alexandra Moser, violist Anuschka Cidlinsky and cellist Oscar Hagen, will receive the Hans Gál Prize from the Academy of Sciences and Literature Mainz and the Villa Musica Rheinland Foundation.
This is the third time the prize has been awarded since its inception in 2020. The quartet will receive €10,000 at a ceremony on 8 December in recognition of its ensemble playing. 'Thanks to their studies at the Mozarteum, they combine the tradition of the music city of Salzburg with everything that is required of a young string quartet today: perfect technique of the individual, understanding of the interaction and maximum range in dynamics and tone,' said the jury.
Formed in 2016 at the Mozarteum Salzburg, the Javus Quartet won second prize at the 2017 Chamber Music Competition CRDM in Udine and the audience prize at the Irene Steels Wilsing Competition at Heidelberger Frühling in 2020. The quartet currently studies with Johannes Meissl in Vienna and counts Lukas Hagen, Eberhard Feltz, Gerhard Schulz, Hatto Beyerle, Valentin Erben, Michael Vogler, Rainer Schmidt, Thomas Adès and Alexander Pavlovsky as its musical influences.
The prize commemorates the composer, musicologist and teacher Hans Gál (1890-1987), who was director of the Mainz Conservatory from 1929 to 1933. He was put on leave after the Nazis seized power due to his Hungarian-Jewish descent and emigrated, first to Austria and then to Great Britain in 1938. In 1945 he became a British citizen and taught at Edinburgh University until 1955. The quartet will perform Gál's second string quartet at the award ceremony.
Previous winners of the prize are the string quartet Esmé from Cologne and the French trio Sōra.