Superb and extensive tribute to one of the greatest violinist–composers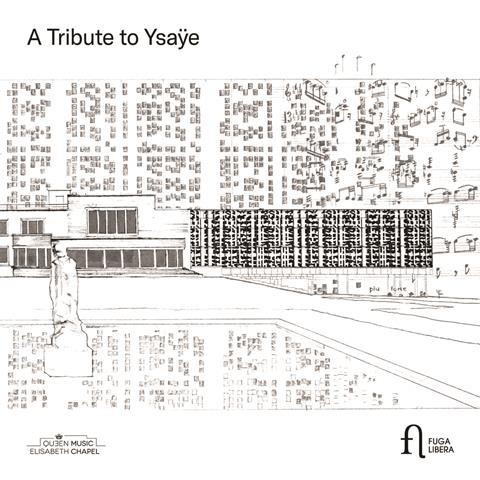 The Strad Issue: April 2020
Description: Superb and extensive tribute to one of the greatest violinist–composers
Musicians: Nikita Boriso-Glebsky1, Elina Buksha2 Renaud Capuçon3, Hyeon Jin Jane Cho4, Augustin Dumay5, Lorenzo Gatto6, Yossif Ivanov7, Kerson Leong8, Vladyslava Luchenko9, Maria Milstein10, Tedi Papavrami11, Júlia Pusker12 (violins) Miguel da Silva13, Hélène Desaint14 (violas) Henri Demarquette15, Gary Hoffman16, Astrig Siranossian17, Danilo Squitieri18 (cellos) Jonathan Fournel19, Pavel Kolesnikov20, Julien Libeer21, Jean-Claude Vanden Eynden22 (pianos) Hermès Quartet23; Brussels Philharmonic/Stéphane Denève24; Royal Philharmonic Orchestra Liège25; Christian Arming26, Jean-Jacques Kantorow27, François-Xavier Roth28 (conductors)
Works: Ysaÿe: Violin Concerto in E minor (first movement)7,25,27; Violin Concerto in D minor (first movement)1,25,27; Poème élégiaque for Violin and Orchestra in D minor op.1211,25,28; Caprice d'après l'Étude en forme de valse de Saint-Saëns for Violin and Orchestra10,25,26; Amitié for Two Violins and Orchestra op.266,7,24; Harmonies du soir for String Quartet and String Orchestra op.3123,24; Méditation for Cello and Orchestra op.1616,24; Trio de concert 'Le Chimay' for Violin, Viola and Cello2,14,17; Légende norvégienne for Violin and Piano8,19; Sonata for Two Violins4,9; Trio de concert en une partie 'Le Londres' for Two Violins and Viola4,9,13; Rêve d'enfant for Violin and Piano op.145,19 Chausson: Poème for Violin and Orchestra op.253,24; Concert for Violin, Piano and String Quartet in D major op.212,20,23 Lekeu: Sonata for Violin and Piano in G major8,22; Piano Quartet12,13,18,22 Franck: Sonata for Violin and Piano in A major6,21 Debussy: String Quartet in G minor op.104,5,13,15
Catalogue Number: FUGA LIBERA FUG 758 (5 CDs)
A Tribute To Ysaÿe
This is music by Ysaÿe, for Ysaÿe and inspired by Ysaÿe. The major share of it is his, although his most famous works, the Six Solo Violin Sonatas, are not here; they are well served elsewhere. Movements from his early unfinished concertos, crafted in Germanic shadow and played with glistening tone and bravura, come first. After them the harmonies become impressionistic, the melodies coiling and beguiling. In the Poème élégiaque Papavrami conjures a world of shaded emotional complexity. Gatto and Ivanov play Amitié, with its impressionistic harmony and grand statements, in easy flowing dialogue. In perhaps the lushest of these pieces, Harmonies du soir, the Hermès Quartet plays with silky tone in chromatic counterpoint with the Brussels Philharmonic.
The complex harmonies, fluid lines and restless counterpoint of his late Trio de concert Le Chimay are vividly shaped; in the Légende norvégienne Leong plays with rhythmic freedom, as if improvising; the players deal splendidly with the multi-stopped contrapuntal challenges of his Sonata for Two Violins, and its reworking as the Trio de concert Le Londres.
There are four other composers here, of whom the least known today is probably Guillaume Lekeu, who wrote a sonata for Ysaÿe, performed by Leong with passion and urgency. He didn't live to complete his Piano Quartet, revealed here as an emotional maelstrom. In Chausson's Poème the long opening paragraph grows wonderfully to the great E flat major release, and his Concert is florid and sweeping. Gatto plays Franck's Sonata with wispy eloquence and vibrato-rich power. Debussy's Quartet is sparkling, alive with dynamic detail. The playing on these discs is uniformly superb, and the recordings excellent.
TIM HOMFRAY