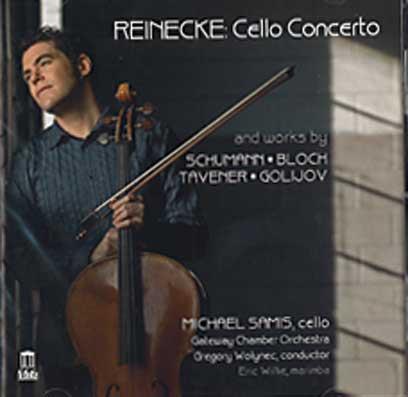 The Strad Issue: November 2014
Description: An unusual but largely rewarding collection of mixed cello repertoire
Musicians: Michael Samis (cello) Eric Willie (marimba) James Bubbon (oboe) Gateway Chamber Orchestra/Gregory Wolynec
Composer: Reinecke, Tavener, Bloch, Golijov, Schumann
Catalogue Number: Delos DEL 3446
Exploring less well-known works such as the 1864 Cello Concerto by Carl Reinecke shows enterprise, and provides an interesting picture of musical language at a certain period. Following very much in the footsteps of Mendelssohn and Schumann, Reinecke offers plenty of the familiar clichés of concerto writing from the mid-19th century with lots of adept virtuosic figuration. The central Andante con moto is particularly lyrical and expressive, but nonetheless most of Reinecke's material remains melodically and harmonically unmemorable. In this warmly recorded performance, Michael Samis proves to be an accomplished soloist, though he misses the potential for greater nuance and varied dynamic range, and the orchestral accompaniment is somewhat stolid and lacking in forward momentum.
Perhaps inevitably in comparison Schumann proves the towering figure. This version of the Adagio and Allegro, utilising the idiomatic orchestration by Ernest Ansermet, proves to be particularly attractive, featuring some well-characterised and sensitive playing from Samis.
Thereafter we spring into the 20th century with an effective performance of Bloch's First Suite and Tavener's evocative Threnos. In the latter work, which draws its inspiration from the devotional aspect of chant, Samis is not completely convincing in sustaining a sense of vocal breathing in the long phrases and making the most of the dramatic role of rests. Likewise, Mariel by Golijov requires a more colourful and persuasive rendition in order not to outstay its welcome.





Joanne Talbot