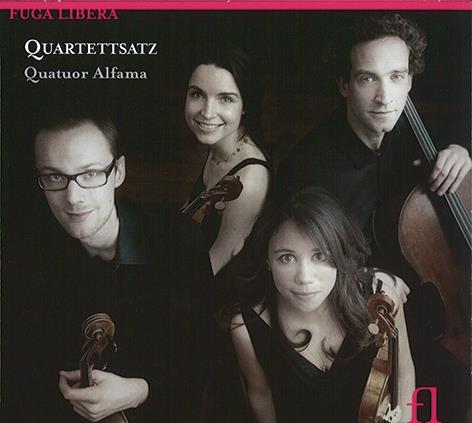 The Strad Issue: January 2011
Description: A resourceful collection of single movements for string quartet
Musicians: Alfama Quartet
Composer: Wolf, Webern, Schoenberg, Mendelssohn, Tchaikovsky, Britten, Sibelius & Rachmaninoff
Although named after a colourful district of Lisbon, the young Alfama Quartet (founded in 2005) is based in Brussels, its members hailing from both sides of the Belgian linguistic divide. The foursome have put together a tasty smorgasbord of stand-alone movements of the most various provenances. I wonder if it's intentional, though, but some pieces almost segue into the following one, which I found irritating first time round but grew to appreciate on successive listenings. One such pairing is that of Webern's Langsamer Satz and Schoenberg's Presto in C (two improbably tonal juvenile effusions), another of Britten's early Alla marcia and Sibelius's Andante festivo.

The longest piece on the CD is Tchaikovsky's Quartet Movement (the composer's first essay in the medium), where the players audibly relish the cadenza-like passages. Perfectly tuned octave doublings sound like changing woodwind in Wolf's Italian Serenade, the accompaniment of which is given a delicious lilt. In Mendelssohn's Capriccio, the fugal section is clearly presented, with perfect balance and articulation. Leader Elsa de Lacerda plays with a beautifully dark, unforced tone, and leads her colleagues with firm but gentle hand.
This carefully produced recording has made me really curious to hear this most accomplished group in the concert hall, and my only possible reason for complaint is the disc's slightly downbeat ending with Rachmaninoff's (literally) muted Romance.



Carlos María Solare