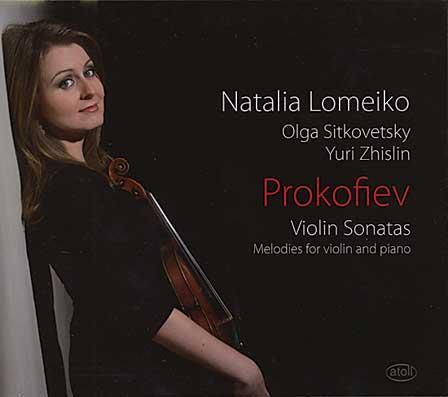 The Strad Issue: November 2014
Description: Fiery performances that lack the last ounce of spontaneity
Musicians: Natalia Lomeiko, Yuri Zhislin (violin) Olga Sitkovetsky (piano)
Composer: Prokofiev
Catalogue Number: Atoll ACD 513
Bringing together the charismatic artistry of Natalia Lomeiko with the music of Prokofiev is an enticing prospect, and in many respects this is fulfilled here. Her opening performance of the op.80 Sonata reveals some fiery playing and a sound, with its bittersweet intensity, that recalls Soviet virtuosos of the past. This said, the close-microphone approach can result in unwarranted tonal harshness, with the third movement lacking warmth in spite of Lomeiko's wide vibrato. Her commitment to the music is palpable, however, and in this sense the reading of op. 94b is a slight disappointment by comparison. It's very good, certainly, but somehow seems a little underplayed, which is a shame.
The Five Melodies op.35 are full of colour and rhythmic vitality, and the Sonata for Two Violins, in which Lomeiko is joined by her regular duo partner Yuri Zhislin, is a welcome addition. Here both players are well matched and tonally sumptuous although, as elsewhere, there is an indefinable sense that, somehow, gestures could be shaped with more spontaneity – tempo changes in the second movement do not always feel convincing, for example. Nonetheless, these are stylistic split hairs in a disc of beautiful playing, well grounded in Olga Sitkovetsky's thoughtful pianism.


David Milsom