After twelve years together, the Dover Quartet is marking its graduation to the ranks of mature ensembles with a new Beethoven recording cycle and a residency at the Curtis Institute. The players speak to Charlotte Smith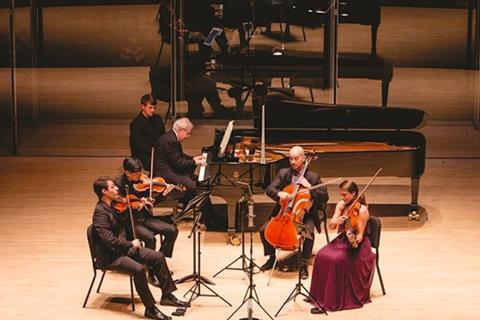 The following is an extract from an article in The Strad's November 2020 issue in which the Dover Quartet talks about recording Beethoven's string quartets. To read in full, click here to subscribe and login. The November 2020 digital magazine and print edition are on sale now.
Now a well-established and settled ensemble, the Dover has turned to Beethoven (as have so many in the composer's 250th anniversary year) following earlier recordings of Shostakovich, Mozart and Schumann. Do these recordings – released in three volumes of the composer's early, middle and late quartets – represent a shift for the group from talented young stars to mature artists? 'I feel like recording the Beethoven quartets is like having a child,' says violinist Bryan Lee.
'You're never truly ready, but at a certain point you just have to dive in and do it.' Violist Milena Pajaro-van de Stadt chimes in: 'You can think of a recording typically as something that immortalises your interpretation. But I believe a healthier and more accurate way to look at the process is of it being a snapshot of where you were at that time. We certainly waited to record the cycle until after performing the quartets in concert a number of times. But because we revere and idolise Beethoven as a composer, we have been searching for a kind of perfection and a way to encapsulate his vision – a mindset that, taken to extremes, can get in the way of the process. We're constantly reminding ourselves to play on this recording as if we're performing in concert.'
Watch: The Dover Quartet performs Beethoven's String Quartet no.8
Read: Dover Quartet: United in Sound
Read: Dover Quartet joins Curtis Institute of Music Faculty as Ensemble in Residence
Read: Dover Quartet wins first prize at Banff competition
'These works do feel like familiar friends – and sometimes enemies!' says cellist Camden Shaw. 'But it's definitely nice to be able to take advantage of the recording process as we grow. This will never be a finished product, and if we ever record the works again they will absolutely sound different, as we will have different ideas. But to be able to work on this cycle at a relatively young age has been fascinating, and we have got to know each piece much more intimately as we have recorded it.'
The sheer variety in the quartets, and the progression in temperament and style from the early to the late compositions, is at once a challenge and a joy. 'If I had my dream way of making these albums, I would record them in different spaces,' Shaw continues, 'because acoustically what they need is quite different. For example, for the slow movement of op.132 you would want to be in the most ringing, glowing and cosmically expansive space possible. But if you were recording the last movement of op.59 no.3 in that same space you would have a lot of problems hearing the detail. And essentially, the album listening experience would be disrupted if we were to move from space to space, so we have had to keep the venue consistent.' Indeed, they are making all their Beethoven recordings in Sauder Concert Hall at Goshen College, Indiana.
This article was published in the November 2020 Dover Quartet issue

The American ensemble on recording a new Beethoven cycle and inspiring the next generation of chamber musicians. Explore all the articles in this issue. Explore all the articles in this issue

More from this issue…