The late cellist shared his musical insights in our August 2011 issue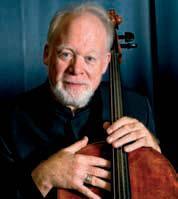 Discover more Featured Stories like this in The Strad Playing Hub
This was first published in the August 2011 issue of The Strad
The cello's range matches the range of human expression in its ability to speak, sing, wail, cry and so on. It is never an abstract expression of its player's body.
A cello soloist must have a sound that has depth, resonance, brilliance, colour and power. Ours is a mellow-sounding instrument, and we must sometimes be able to project through thick textures.
The secret of a great performance lies in getting out of the way of the music's values and ethos. They must be able to speak with total freedom.
When teaching, I always look to that time when the student will take over and go their own way. The seeds of lifelong study and of adaptability must have taken root by that point, otherwise the student will wither and their vitality and development will atrophy and die. A life in the arts is one of constant evolution, and this should be their guiding ethos.
The greatest lesson my career has taught me is that people from every background, political alignment and socio-economic environment all turn, and should turn, to music as a line back to themselves as human beings.
This was first published in the August 2011 issue of The Strad