Music director and violinist Julian Azkoul shares what it's like to perform with live-action jugglers in a new work exploring social and artistic recovery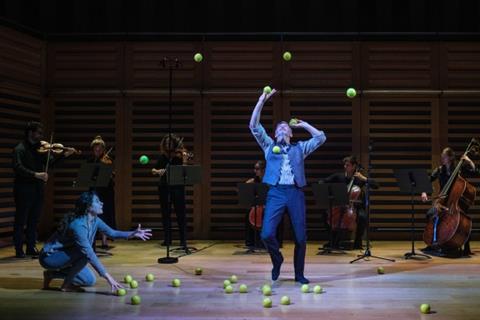 Discover more Featured Stories like this in The Strad Playing Hub
'Throw, snatch, shower, cascade'. These are just some of the juggling terms and patterns we at the United Strings of Europe have become familiar with throughout the development of our new show, Apollo Resurrected. The hour-long performance premieres at Kings Place in London this Friday (28 October), and brings together movement, string performance and storytelling in a truly unique way.
You won't actually get to see us juggling our violins and bows — we're collaborating with performers from the celebrated troupe Gandini Juggling, who have helped us develop new means of expression inspired by the artistry and inherent musicality of our quartet of juggler-acrobats.
Our vision in Apollo Resurrected recasts the mythical protagonist Apollo as an artist down on his luck, depressed, and in urgent need of inspiration. Implicitly, the drama's context relates to the recent Covid-19 pandemic, but it's also about the perennial struggles artists sometimes face due to external pressures or personal factors.
We wanted to explore some of these notions via the medium of juggling and acrobatics, moving away from the abstract, original ballet blanc choreography made famous by George Balanchine. The music in Stravinsky's ballet Apollo and his Muses is so expressive, quirky, and evocative – it has been a joy devising new scenes and movements with the creative team, bringing our director and librettist Bill Barclay's extraordinary text to life.
An experimental project like Apollo Resurrected requires us to adapt our musical practice. For instance, in my role as music director I have provided musical direction throughout the development work with the jugglers, Sean and Bill, months before rehearsals began with the musicians of the United Strings of Europe. I've had to take musical decisions early on, especially with regard to pacing and tempi (akin perhaps to how a conductor might devise an interpretative blueprint for a work), that ordinarily we would refine collectively as a string ensemble together as colleagues.
This reflects the parity of music and dramaturgy in our show; they are co-dependent, and require that certain frameworks be in place. As the show begins to tour and the cast and musicians begin to know the production inside out, we will further refine and adapt the dramatic and musical pacing together, much like a cast of dancers moulding into each others' grooves.
Unlike in a traditional ballet where the orchestra plays in the pit, we wanted to integrate the musicians into the drama itself, so we're onstage with the juggler-acrobats. To further blur the line between cast member and musician, the instrumentalists have memorised key moments of Stravinsky's score, freeing them up to move centre stage and form part of the action.
To achieve this sense of dramatic parity between cast and ensemble, it was vital that we reduce Stravinsky's orchestral score down to chamber music forces. The publisher initially turned down my request to re-arrange the work for smaller forces, but I reached out to Stravinsky's heirs who were supportive and helped broker an agreement! Having the musicians in a small formation on stage — framing the action — brings an added intimacy to the story and enables the audience to engage more deeply with the themes our story explores, hopefully enabling a much more profound sense of empathy (and perhaps recognition) with our Apollo's plight.
The world premiere performance of Apollo Resurrected takes place at Kings Place on 28 October with a second performance as part of the Leeds International Concert Season on 3 November. More information can be found here: https://www.unitedstringseurope.com/