Artistic director of United Strings of Europe Julian Azkoul shares the motivation behind the arrangments featured on the ensemble's latest album Renewal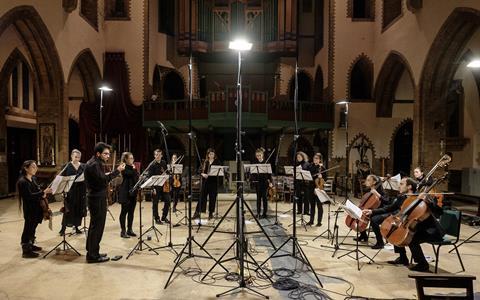 The following extract is from The Strad's February 2022 issue Session Report: Good as new. To read it in full, click here to subscribe and login. The February 2022 digital magazine and print edition are on sale now
'I arrange quite a bit of music already for the ensemble, so I've always been interested in how arrangements can sometimes shed a different light on a piece of music and provide a different kind of insight to performers and listeners. But on top of the simple act of arranging, a lot of the repertoire we've picked for this album is about transformation, change or loss. The idea of renewal, we thought, was also pretty apt given the context of being in a pandemic and hopefully emerging from it, eventually.'
All the pieces on the album exist in other versions, some in arrangements by their composers, as with the string orchestra version (2014) of Caroline Shaw's Entr'acte (originally for string quartet, 2011), and Osvaldo Golijov's Three Songs (whose original 2002 version is for soprano and full orchestra, but which is here recorded in its 2009 string orchestra version).
The other arrangements are by Azkoul, such as an instrumental version of a short piece originally written for unaccompanied male vocal ensemble, Joanna Marsh's In Winter's House (2019), produced with input from the composer. 'It's not a religious poem,' says Azkoul of the Jane Draycott text originally set by Marsh, 'but it paints a very wintry scene – desolate, but, as the poem says, with a child in this house who's dreaming. We thought that tied in with the message of renewal. Whether the child is a symbol of spring or something else is up to each person to interpret.'
He has also included another transcription of a vocal piece, Shaw's And the Swallow (2017), the final track on the album. Is there a particular appeal for string players in vocal music? 'There's so much commonality,' he asserts. 'String writing and vocal writing in many ways are very different, but in the way you think of range and how you deploy voices contrapuntally or even in harmony, there's a lot of commonality. It's particularly the timbre and the aesthetic of voices that I find so appealing.'
There are other aspects of this piece by Shaw that make it particularly suitable for the album. For one thing, it is a setting of Psalm 84, commonly included at dedications of new churches. Also, explains Azkoul, 'The composer says quite clearly in an interview that it was inspired by the universal need for a home and by the Syrian civil war and refugee crisis, and the migrant situation on the southern border in the US as well. That particularly resonated with me because here we were during the pandemic, all at home, and it occurred to me more than once just how fortunate I was to have a home that I could be safe in and live in, and just how much more difficult the pandemic would have been for people who don't have a fixed home, or are homeless, destitute or displaced.'
Azkoul, having said that, does add an important qualification. 'I'm wary of seeing refugees and asylum seekers as this helpless bunch who have nothing and are bereft. They deserve our support because of what's happened to them, but they should also be welcomed and encouraged by their country of destination to fulfil their potential.' As a group dedicated to promoting musical and cultural cooperation, USE's own involvement with refugees and asylum seekers, alongside its musical interest in themes surrounding migration (their first album was entitled In Motion), long pre-dates Covid-19.
'We've had a long relationship in our outreach work with various minority groups, many of them refugees and asylum seekers. My mother's a UN diplomat for the International Organization for Migration, so I've grown up being highly aware. And, of course, people's awareness of how many really are displaced seems to be growing, especially now, with climate change.'
This article was published in the February 2022 Théotime Langlois de Swarte issue

The Baroque violinist's career has taken off in the past year. Charlotte Gardner talks to him about his quest to popularise the works of long-lost composers. Explore all the articles in this issue . Explore all the articles in this issue

More from this issue…