The opening of the 2019 Bravo! Vail Music Festival was beset by last-minute programme changes and inclement weather – yet proved to be a rousing success, as Charlotte Smith reports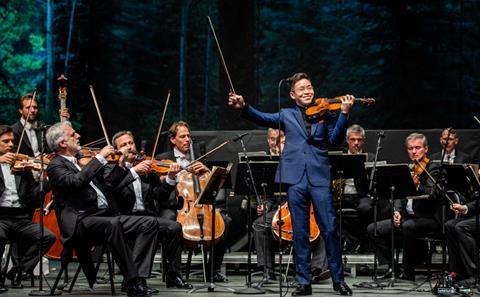 Soloist Paul Huang and Chamber Music Vienna-Berlin play on despite the cold and rain © Zach Mahone
My trip to cover the Bravo! Vail Music Festival in its 32nd season was not what I expected – but neither was it the disappointment it might have been under less enthusiastic and capable management.
The original draw, apart from Colorado's breathtaking mountain scenery, was star soloist Anne-Sophie Mutter, who was due to open the six-week event with the complete Mozart violin concertos over two nights of performances with Chamber Music Vienna-Berlin – a tantalising prospect considering the orchestra was composed of elite musicians hand-picked from the already elite Vienna and Berlin philharmonics.
However, unfortunate and unavoidable circumstances meant that Mutter had to delay her appearance at the festival, and that I had returned to the UK by the time she was able to perform.
A lesser festival might well have cancelled its opening concerts under such difficult circumstances, particularly given the short notice. But Bravo! Vail has never withdrawn a performance and was certainly not about to start now. So it was that Chamber Music Vienna-Berlin's Mozart and Haydn programmes were hastily rearranged to plug the gap – and into the Mutter-shaped void stepped festival artistic director and pianist Anne-Marie McDermott, who performed Mozart's Piano Concerto no.14 on the first night (20 June), and up-and-coming violin soloist Paul Huang, who performed Mozart's Violin Concerto no.4 on the second (22 June).
It's worth noting that Mutter's absence did little to diminish the eagerness of Vail's very dedicated audience, and neither did the coldest temperatures ever to greet the event's opening. On the first night rain lashed down on the crowd of 'lawn people' – those who purchase seating on the lawn surrounding the outdoor Gerald R. Ford Amphitheater, and who do not, therefore, benefit from its spacious pavilion cover.
But these hardy folk came prepared with umbrellas and waterproofs of assorted colours, lending a vibrant Dunkirk spirit to the proceedings. Less prepared were the members of the orchestra, who at one point looked doubtfully above them as sheets of rainy mist made their way towards them through gaps to the side of the stage roof.
Yet, ever the professionals, the musicians played on – and what a sound they produced. Comprising 13 string players, 2 French horns and 2 oboes, the (it must be said) all-male group was delicately refined and oh-so tasteful, with pinpoint accuracy of ensemble and articulation, in Haydn's Symphony no.59, made all the more atmospheric by the audibly stormy backdrop.
Moving at a cracking pace the orchestral strings were never too rich, but always charming, light and even humorous when occasion demanded, and only in solo passages was a more generous vibrato apparent. In Haydn's Symphony no.49, the group's nimble dexterity was even more apparent, directed faultlessly from the leader's chair by Vienna Philharmonic concertmaster Rainer Honeck.
Between these symphonic bookends was a performance of Haydn's First Cello Concerto by Knut Weber of the Berlin Philharmonic, and the aforementioned Mozart piano concerto by McDermott. If Weber's sound seemed slightly small, belying his large physical stature, he was always refined of tone and dynamically interesting – though intonation suffered a little at the top of the fingerboard. The more captivating performance of the evening came from McDermott, who seemed to relish every second spent on stage with her chamber partners. She drew a lovely, ringing, cushioned sound from the keyboard and communicated admirably with both her fellow players and the audience.
McDermott later told me: 'I am in awe of this group of musicians. The rehearsal was a thrill, as we were all working at hyper speed to get through everything at short notice. One of the great lessons I have learnt over the course of my career is that you shouldn't talk too much when first rehearsing with a new group. Instead, you should play straight off, and then when everybody's guard is down, we can talk about what we all know best, which is the music. Rainer runs the rehearsals, and at the end of our session he pulled me to one side and said, "When you get on stage just be as free as you want." This was incredibly kind; I have never before experienced a group of musicians like this who listen and react instantly! The dynamic range of just 17 players – how they get this big fat sound – is unbelievable.'
On the second night, Haydn gave way entirely to Mozart – and the technical challenges continued in the form of freezing cold temperatures, though perhaps less rain. Ever ready to provide ingenious solutions, the festival team, led by executive director Caitlin Murray, piped hot air on to the stage via enormous black-clad tubing, and handed free hot chocolate to audience members bundled in winter coats and blankets. Undeterred by the weather, Chamber Music Vienna-Berlin gave sparkling and natural performances of Mozart's Symphony no.1 (composed when the young prodigy was eight years old) and his 29th in A major, demonstrating again how these compositions are part of their musical DNA. After the interval, the composer's K190 Concertone for two violins, oboe, cello and orchestra provided solo opportunities for Honeck and his colleagues, to which all rose with aplomb.
However, it was Huang in Mozart's Fourth Violin Concerto who provided the standout performance of the evening. Recipient of an 2015 Avery Fisher Career Grant and a 2017 Lincoln Center Award for Emerging Artists, Huang drew an unfailingly attractive, golden and resonant tone from his 1742 'Wieniawski' Guarneri 'del Gesù'. His more expansive bowing and romantic vibrato, in contrast to the sparseness and delicacy preferred by his orchestral collaborators, served as an effective distinction between solo and chamber palettes, particularly on his lower strings.
If the first movement was confident and secure, the second and third transcended technical concerns to produce phrases of uninterrupted lyricism (bow changes? What bow changes?) and effortlessly bubbling spiccato. It was only when I joined the festival team on the stage for a champagne toast following the performance that I realised how cold it had been for all the musicians, despite the organisers' best efforts to provide some warmth, making Huang's achievement all the more remarkable.
As I left Vail, the festival had barely begun, with residencies by the New York Philharmonic, the Dallas Symphony Orchestra and the Philadelphia Orchestra to come – not to mention solo performances by such stars as Hilary Hahn and Augustin Hadelich, chamber music by the Takács Quartet, plus the event's first opera staging in the form of Puccini's Tosca.
It says much about the passion and commitment surrounding Bravo! Vail that McDermott, who has served as artistic director since 2011, has so many ideas for its continued expansion – not least in terms of the free family concerts, chamber music performances and educational activities it runs in various venues large and small throughout the area.
Over the next five years, McDermott is planning an ambitious programme of new initiatives, including a commitment to commissioning a new work for each of the festival's three resident symphony orchestras each year, resulting in a body of 15 works at the project's end. 'My goal is to get the audience to own the concept of bringing new works into the world,' she told me. 'I want our audience to develop a relationship with these composers, and to experience what I have felt as a musician, premiering so many exciting works, as it's such a thrill.' Judging from the way McDermott and her team rose to the myriad challenges of my few days in Vail, I have no doubt they will succeed.