For the British cellist, Elgar's Cello Concerto brings back a wealth of memories from his earliest years studying the instrument – and of trying to play like Jacqueline du Pré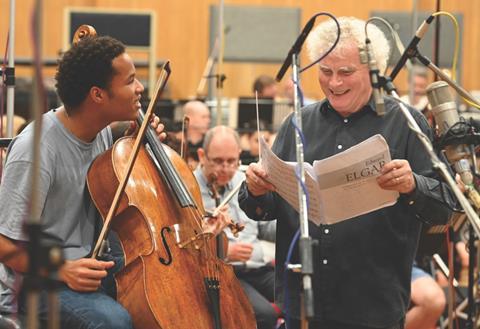 Sheku Kanneh-Mason with Simon Rattle at the recording of the Elgar Concerto with the LSO in June 2019 © Dominic Nicholls
I remember when I was growing up, watching the video of Jacqueline du Pré performing the Elgar Cello Concerto with Daniel Barenboim and the Philharmonia Orchestra. I saw it over and over again and I've never felt so inspired by anything. When our family went on long car journeys, my parents would usually put on one of three recordings: Rachmaninoff's Second Piano Concerto; the Beethoven Violin Concerto with Itzhak Perlman; or the Elgar with Jacqueline du Pré.
That recording definitely had a massive impact on me: when I was seven or eight I got the sheet music and tried to play it like her – even before I could play the cello properly myself! I thought it was incredible how she managed to put so much meaning into every single note – I felt really, really moved and understood all the emotions.
It's a very personal piece of music, and I always felt as though it's a piece the composer wrote about himself, rather than trying to tell the story of another person's feelings. That's why the emotions feel direct and real when you play it – it contains so many colours, themes and characters. When I first heard the piece, of course I didn't know the context of Elgar's life and the time he was writing – the sadness, confusion and loss of the First World War, for example – but I was immediately able to understand the emotions he was portraying. It was a piece that always moved me.
The theme of the first movement is quite haunting and melancholic. Like Mendelssohn's Violin Concerto it begins in E minor, which I think is one of the saddest keys you could choose – not only a personal kind of sadness but one that's also quite innocent and fragile. Then it takes you on a journey, changing its character throughout until at the end it's quite uplifting. The opening theme returns at the end, but given the context of everything that's gone before, it's imbued with a sense of hope.
While I was studying the concerto I felt my ideas about it changing and evolving. Hannah Roberts, my tutor at the Royal Academy of Music, has an amazing range of ideas about style and colour, encouraging me to study the score and finding clues in the harmony. I like breaking down the piece into small chunks to try out different sounds and discover how to bring across the emotion. For instance, the main theme starts on the supertonic, giving a kind of unsettled feeling to the opening that I really wanted to bring out.
Later on it's resolved when the theme is introduced in full, and to me it introduces a feeling of loneliness. I listened a lot to other recordings, including Beatrice Harrison's with the composer conducting. I even found it useful it useful to hear Yehudi Menuhin's performance of the Elgar Violin Concerto. There are parts of it where it's easy to imagine the composer walking in the Malvern Hills that inspired him so much – although I haven't yet been there myself.
I've now performed the concerto a lot of times on stage with orchestra, and every time it's different. When I'm practising, I try unusual things, like starting a phrase on a different string, just so that I can have lots of options of how to play it on stage. The thing I enjoy most about live performance is that everything happens in the moment, each individual player in the orchestra has their own ideas and you have to respond to it. It makes you hyper-aware of everything that's going on.
This article was published in the January 2020 Lisa Batiashvili issue

Georgian violinist Lisa Batiashvili discusses her latest projects, among them artistic directorship of the Audi Summer Concerts festival and performing on the soundtrack to The White Crow. Explore all the articles in this issue.

More from this issue…