Brahms's First Symphony was the piece that inspired the American cellist to dedicate his career to music, and prompts a reminiscence of his teacher Piatigorsky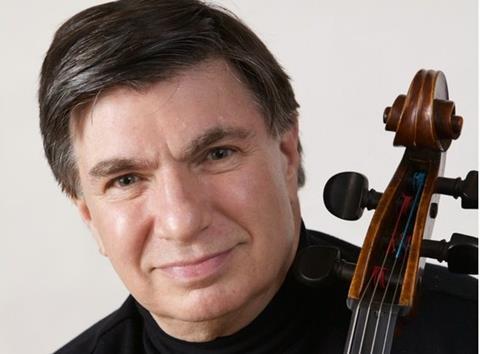 Brahms's Symphony no.1 is the piece that made me want to be a musician. Before that, I was learning the cello but I didn't listen to classical music much outside of my lessons – I'd often fall asleep at concerts. That all changed when I was 15 years old, and my first summer at the Music Academy of the West festival in Santa Barbara. Maurice Abravanel was conducting the student orchestra and he gave us the First Symphony to play. Now I know that people often say the fourth movement inspired them to take up music, but for me it was the opening to the first movement that really hit me between the eyes. The lush Brahmsian harmonies with the violins going up as the cellos go down, leading into all kinds of climaxes, all with that booming, insistent timpani behind it – I was at just the right age to appreciate it, and I loved being a part of it as the harmonies played around me. When I got home I discovered we had an LP of the 1956 recording, with Bruno Walter conducting. I wore out that record in a month, and I can credit my entire career to that one piece.
A long time afterwards, I learnt that the opening wasn't originally there. Brahms began the symphony with the Allegro section and added the introduction later. There's a story that he sent his friend Clara Schumann an early draft of the score and she told him it didn't start well, so he added it in. He was very concerned about writing a symphony at all, and he tinkered with this one for a long time – 21 years from the earliest sketches to the finished score, so it's very possibly a true story and I have Clara to thank for my career!
Much later, I acquired a CD set of recordings by Wilhelm Furtwängler. It contained just the fourth movement of the First Symphony, which he recorded with the Berlin Philharmonic in 1945. On that recording he does something that's certainly not in the score: he starts the Allegro non troppo main theme just a tiny bit faster than the intro, then adds a long accelerando crescendo, so it only arrives at the tempo at the first forte. Even though it's not what Brahms wrote, I'm sure he would have loved it, and I also recognised something that my teacher Gregor Piatigorsky used to say: you can do something that isn't in the score, as long as it's sincere and grows out of that particular sound world. Piatigorsky spent several years under Furtwängler as the Berlin Philharmonic's principal cellist, and I'm sure this is where he got this idea – it's all about communicating with the audience and 'what's between the notes that counts'. I've also heard a Herbert von Karajan recording of the symphony, and he does much the same thing, most likely inspired by Furtwängler's performances, which he certainly heard. Later I played the Furtwängler recording to the violinist Frank Almond and he commented: 'No conductor today would dare play it like that!' It's something we've lost in the past 80 years.
I work on orchestral excerpts with my students and I always give them the same advice: get to know the entire work. Follow the score on a YouTube video, become familiar with your part, and learn it as if it's a sonata or a concerto solo. The better you know it, the more fun you'll have in rehearsal. It might also help you advance in the orchestra, as it's very apparent to a conductor when someone knows the piece so well.
This article was published in the November 2021 Chad Hoopes issue

The US violinist on making unconventional career choices, and sharing his knowledge with the next generation of players. Explore all the articles in this issue . Explore all the articles in this issue

More from this issue…