For the German violinist, Schubert's Fantasy in C major is a transcendental experience – and not just because of its myriad technical challenges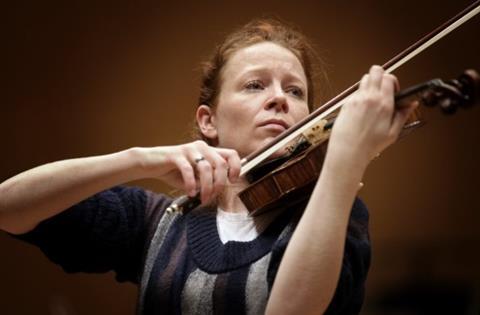 Schubert's Fantasy in C major was one of the reasons I took up the violin. The first time I heard it I was travelling in the back of my parents' car, aged six. It was raining, and a crackling version of the Fantasy came on the radio, made in 1931 by Adolf Busch and Rudolf Serkin. Even though I didn't understand it, I knew this was something that would stay with me for a long time. I think it was one of the two pieces that convinced me to start playing the violin a year later – that and the Carnival of the Animals, which fascinated me in a different way.
Every time I return to the Fantasy, I've found another layer of meaning within it. As with so many of Schubert's works, there are images, words, colours and textures I can hear and see in the piece. To me, the Fantasy belongs with the many songs he composed, which are firmly rooted in the folk tradition, but with a transcendental quality as if he's reaching for the sky. It's like he's down on earth and in heaven at the same time! In a sense, he understood psychoanalysis long before Jung and Freud, and every phrase is laden with meaning.
I studied the piece with Michèle Auclair at the New Boston Conservatory, who had a very different approach from that of Busch and Serkin. She talked a great deal about the long opening, which she saw as being like conceptual art: a frozen image as if Schubert was trying to make time stand still. She would say it was a place where technique and metaphysics meet: if you use every millimetre of the bow, perfectly position your right arm, make the tiniest contact with the string, then you're creating a metaphysical message for the audience. The piece moves forward from that point in a way that for me is like walking through life, with every triumph and heartache you can imagine. It leads into the second movement, based on Schubert's earlier song Sei mir gegrüßt, which I think is the most beautiful moment in chamber music. Only the piano is playing at this point, and I can just lean back and enjoy it. Then we move into the variations which are outrageous! As we get to the coda, we return to the theme but in a more fluent, easy-going way than before, and the piano part leaves out the melody completely. So, like a dream, it's there in the back of your mind as you're playing. The last time I played it, I realised how much I'd underestimated this part before, and it made a huge impact on me.
Read Carolin Widmann receives 2020 Duisburg City Music Prize
Read Carolin Widmann on teaching and why she is branching out into early music
Read Masterclass: Carolin Widmann on Schumann Violin Sonata no.2
Read Renaud Capuçon, Leila Josefowicz and Carolin Widmann on 21st-century concertos
The Fantasy is one of the hardest works to perform, for both the violinist and the pianist. There are lots of tiny changes of position, and the intonation is incredibly difficult, but it's only once you've mastered the technique that the challenge really starts. It's essential to have a pianist who you really trust, which means you don't need to discuss it too much – the meaning can all stem from the music making. I've played it most with Alexander Lonquich, including the recording we made in 2010. That was a moment when, even though we were in the studio, it felt as if we were playing it for ourselves and nothing else mattered. It was an atmosphere you can't create, and I'm so glad that it happened when the microphones were there. Since that recording, I've been asked to perform the Fantasy many more times, and I have so much respect for it that I need to be very careful in deciding which pieces to play alongside it – I couldn't possibly play it at the start!
This article was published in the June 2021 Bomsori issue

The Korean violinist on graduating from the competition circuit to become an international soloist - and why singing is at the heart of her playing. Explore all the articles in this issue . Explore all the articles in this issue

More from this issue…