The Strad's editor Charlotte Smith introduces the May 2021 issue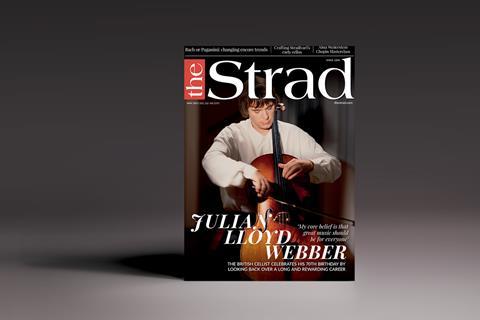 Without question, Julian Lloyd Webber has had an enviable career. The British cellist, who celebrated his 70th birthday last month, worked with everyone from Yehudi Menuhin to Yan Pascal Tortelier to Neville Marriner during the first four decades of his professional life, his diary an abundance of recording and performing engagements. Yet Lloyd Webber's career has also encompassed another important strand – an unfailing commitment to music education. Although it was a terrible blow, the injury that forced him to retire as a performer in 2014 also allowed him to build on the work of his In Harmony programme, bringing music to children in disadvantaged areas, and to become principal of the Royal Birmingham Conservatoire in 2015. Today, Lloyd Webber is reinventing himself again, as a conductor – and as he tells Julian Haylock on page 24, his passion and enthusiasm for music remain as strong as ever.
Of all the instruments that Lloyd Webber owned during his years on the concert platform, the c.1690 'Barjansky' Stradivari was by far the most sophisticated, with its always 'glorious' sound, no matter how near to the recording microphone. On page 32 Philip Ihle examines this and 16 other early cellos by the great Cremonese maker to determine the number of patterns used in his workshop before the much-celebrated 'B form'. It's a particularly difficult question to answer given the dearth of existing internal moulds – and that most of Stradivari's cellos have been cut down in the years since his death – but Ihle's analysis leads to some intriguing conclusions.
It is thought that Stradivari designed his later cellos as smaller instruments in response to the developing string repertoire. Likewise, the 20th century's prevailing appetite for virtuoso violin encores by the likes of Paganini, Wieniawski et al has undergone a transformation in the last two decades, with players more often opting for solo Bach, and a variety of left-field choices from folk tunes to pop arrangements. On page 52 Charlotte Gardner talks to top musicians about their encore preferences and asks whether this most recent trend has been artist- or audience-led.
Charlotte Smith editor
Email me at thestrad@thestrad.com or tweet @TheStradMag