There's more to the instrument's repertoire than meets the eye, says the young British viola player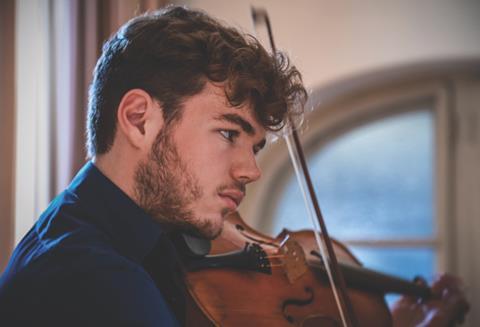 Timothy Ridout
Discover more Featured Stories like this in The Strad Playing Hub
Read more premium content for subscribers here
As a kid I wanted to be a singer, not a violist. I was singing as a boy treble in choirs and musicals when all the peripatetic music teachers at my school came to demonstrate their instruments. I chose the viola partly because the teacher played us 'Hedwig's Theme' from the Harry Potter films but I didn't touch it very much at all until a few years later, when my voice began to break. By the time I started at the junior department of the Royal Academy of Music I'd spent a couple of years working much harder at the viola but I was still way behind everyone else. I'd fallen in love with it by that point, though, so I didn't mind having to practise twice as hard.
Singing taught me how important it is that everything works well together – phrasing following the shape of the line, for example, as well as physical things like being well balanced. It's impossible to breathe deeply if you stand with an unnatural posture, and the same thing applies as an instrumentalist. Singing gives you a free and fundamental sense of phrasing that I'm always trying to achieve in my playing.
There's a misconception that the viola repertoire is very small. There are some real gems to discover if you're willing to look beyond the most famous composers. The instrument didn't get a huge amount of exposure during the period when the virtuoso concerto was really taking off, but that changed in the 20th century, when Lionel Tertis and William Primrose became real catalysts for changing the viola's reputation. Without them we wouldn't have the Bartók, Walton or Milhaud concertos, or a host of less well-known pieces, many of them by British composers. I've just recorded Vaughan Williams's Suite with the Lausanne Chamber Orchestra, for example, alongside music by Martinů, Hindemith and an arrangement of Britten's Lachrymae.
I love playing transcriptions of pieces written for other instruments. As much as anything else, it's a great way to acquaint yourself with more music. Personally, I see no problem experiencing things in new ways and I think it's a pity when people take a very purist view. Elgar approved of Tertis's transcription of his Cello Concerto and the pair even played it together. I'd love to try performing it, too. One of my plans this year is to record my own version of Schumann's Dichterliebe for viola and piano on Harmonia Mundi. Maybe it's because I enjoy singing so much, but I think the sound of the viola is a great match for the mood of the songs.