The Strad's editor Charlotte Smith introduces the January 2021 issue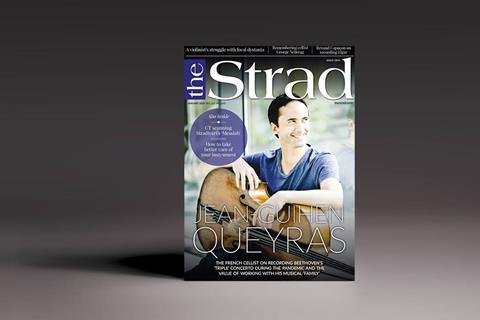 When French cellist Jean-Guihen Queyras finally returned to recording with close friends and colleagues following last year's first European lockdown, he did so with an immense sense of joy. Of course, social distancing regulations were still in place, but just 'being in the same room with other musicians, combining sounds again, creating harmony, experiencing rhythm' was a hugely emotional experience. Adding to that intensity was the choice of repertoire – Beethoven's 'Triple' Concerto – and the chance to work once more with frequent musical partner Isabelle Faust. On page 26 Pauline Harding speaks to Queyras about the importance of forging long-term collaborations with like-minded artists, and about stretching his technique and musicianship in new and exciting repertoire.
For violinist Clayton Haslop, pushing for ever more inventive technical solutions has been a necessity rather than a choice. Unable to use his third and fourth left-hand fingers due to focal dystonia and a shoulder injury, the leading Los Angeles-based session violinist refused to give up playing and instead embarked on a journey to re-learn his instrument using just two fingers. The results were revealed last year in a performance of Tchaikovsky's Violin Concerto on YouTube. On page 54 he recounts the highs and lows leading to that remarkable achievement.
As we begin this new year with the hope of more than one vaccine on the horizon, musicians the world over will be looking forward to taking to the stage again. Whether your violin, viola, cello or bass has seen less action over the past six months – or perhaps more, in the form of a rigorous practice routine – it's essential that we players know how best to care for our instruments. On page 48 Korinthia Klein outlines the simple steps musicians can take to avoid an unnecessary trip to the luthier's workshop. From correctly fitting strings to dealing with slipping pegs, a few basic measures can make a world of difference to the health of our equipment.
Charlotte Smith editor
Email me at thestrad@thestrad.com or tweet @TheStradMag