Our October 2021 issue features violinist Janine Jansen's journey to record an album and documentary on twelve different Stradivari violins. Read about the violins that were chosen for the project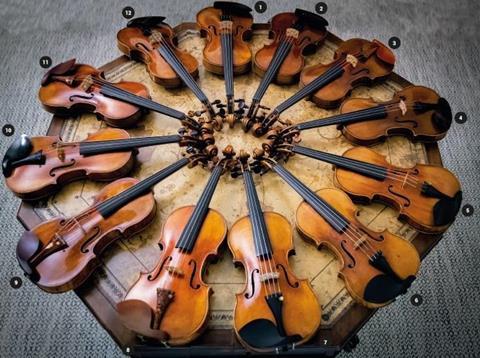 The following extract is from The Strad's October 2021 issue feature 'Janine Jansen: A Spiritual Connection'. To read it in full, click here to subscribe and login. The October 2021 digital magazine and print edition are on sale now
Background to the instruments used in Janine Jansen's recording and documentary Janine Jansen: Falling for Stradivari
The twelve violins were chosen for their illustrious histories, the quality of their workmanship, and because they represent output from Stradivari's early to later years. Below is a glimpse into their provenances
1. The 'Captain Savile', c.1680, is named after an amateur violinist in the British Army Rifle Brigade, who bought it in 1900. Its first known sale was in 1852, by Jean-Baptiste Vuillaume. Later owners include Helen Manheim, a pupil of virtuoso Jenő Hubay, from c.1912; and New York College of Music director Arved Kurtz, from 1959. Despite its early date, the skill with which it was made 'almost can't be bettered', says Smith.
2. The 'de Chaponay', 1722, was owned by the noble de Chaponay family, near Lyon, France, then bought by a silk merchant in 1876 and, in 1903, by Brighton-based collector, ophthalmic surgeon and Royal Academy of Music director Charles Oldham. It has since remained in a private collections.
3. The 'Titian', 1715, is named for its hue, which resembles the red-orange in Titian's paintings. Violinist Efrem Zimbalist bought it for $33,000 in 1922; and for four decades from 1926, New York's Warburg family loaned it out to players including Arthur Grumiaux. It is now played by Taiwanese-American violinist Cho-Liang Lin.
4. The 'Kreisler, Huberman', 1733, made by an 89-year-old Stradivari, was purchased by Kreisler on the eve of World War I and sold in 1937 to virtuoso Bronisław Huberman. 'The form of the violin is absolutely glorious, slightly fuller in the arching than in the golden period, with a darker sound,' says Smith.
5. The 'Vieuxtemps, Camposelice', 1710 – which to Jansen plays 'like a Ferrari' – belonged to Vieuxtemps from c.1870. Later owners included the French Duke and Duchess of Camposelice, and a German lawyer and amateur violinist, Leopold Geissmar. It travelled to London with Geissmar's daughter, Berta, when she fled Nazi Germany and became an administrator of the London Philharmonic.
6. The 'Milstein', 1716, was owned in the late 1800s by the Böselangers, German nobles later involved in the 20 July Plot to assassinate Hitler (1944). Henry Goldman of the Goldman-Sachs family bought it in 1911; it then nearly met its end in Finn Harry Wahl's collection in Vyborg during Russia's 1939–40 Winter War, but was rescued by violinist Onni Suhonen. Milstein bought it in 1945, and it is now owned by the Terry and Jerry Kohl Foundation, Los Angeles.
7. The 'San Lorenzo', 1718, has painted on its ribs 'Gloria et divitiae' and 'in domo eius', possibly in reference to the Book of Psalms Chapter 111 line, 'Glory and wealth shall be in his house and his justice remains for ever and ever.' It was commissioned as a wedding gift for Mauro D'Alay (c.1687–1757), a renowned violinist–director from Parma who played for King Philip V of Spain and probably worked with Tartini and Vivaldi. The violin was later owned by Viotti, and from c.1823, by the Third and Fourth Dukes of San Lorenzo. Since 2016 it has been in the Munetsugu Collection, Tokyo.
8. The 'Alard, Baron Knoop', 1715, is, to Beare's, one of 'the most beautiful, well-preserved Stradivari violins in existence'. In 1870 Vuillaume gave it to his son-in-law, Jean-Delphin Alard, who taught Sarasate. Vuillaume's 1865 copy of the instrument is played by Hilary Hahn. The 'Alard' was later in the collection of the German Baron Johann Knoop, from a wealthy family of cotton merchants, and counts Joachim among its players.
9. The 'Shumsky, Rode', 1715, was owned by Rode, pupil of Viotti, soloist to Napoleon and dedicatee of Beethoven's op.96 Violin Sonata (1812). The great violinist Oscar Shumsky, who called it 'love at first sound', bought it in 1946. Even after trying all the other Strads, this one – which she currently has on loan – is still Jansen's favourite.
10. The 'Tyrrell', 1717, is, according to W.E. Hill & Sons, 'among the best existing examples of the maker', and is still in 'nearly pristine condition', say Beare's. It is named after a remembrancer of the City of London Corporation, Edward Tyrrell, who bought it in the mid-19th century. Since then it has passed to collectors including Gerald Segelman (1899–1992), an eccentric recluse who stacked valuable instruments away in his tiny London flat. Today it remains in a private collection and is rarely played.
11. The 'Lord Amherst of Hackney, Kreisler', 1734, made by Stradivari aged 90, was described by the Hills as the finest late-period Strad they had seen. From 1872 it was owned by British politician and art collector Lord William Tyssen-Amherst, a key figure in the discovery of Tutankhamun's tomb. Kreisler bought it in 1936 and took it to the US with him in 1939. In the 1950s it was played by a student of Auer's, Benno Rabinof.
12. The 'Haendel', c.1699, was owned by a German-Italian painter, Cesare Mussini, and various collectors, before Ida Haendel. In her book Woman with Violin (1970), she wrote that it was 'as precious to me as a limb. I had found my "mate" in this beautiful instrument.' She played it for several decades, until her death in 2020.
Read: Janine Jansen: A spiritual connection
Watch: Janine Jansen: 'Falling for Stradivari' cinema trailer
Read: Using 'Digital Amati' in violin making
This article was published in the October 2021 Janine Jansen issue

The Dutch violinist performs on twelve of the world's finest Stradivaris for a new recording and documentary. Explore all the articles in this issue . Explore all the articles in this issue

More from this issue…