The British cellist on performing at the 2021 In Classica International Music Festival in Dubai, and returning to solo Bach during the pandemic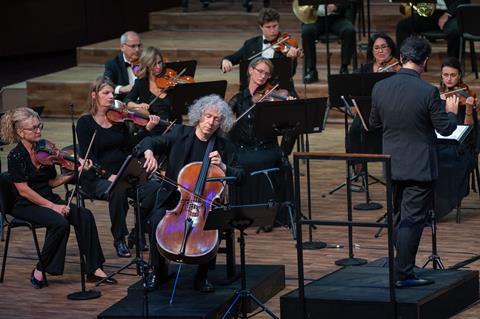 I was asked to play Alexey Shor's Cello Concerto, 'Musical Pilgrimage' at the In Classica International Music Festival in Dubai, and initially thought I wouldn't have the time to learn it, but then the lockdowns came and with them a lot of performance cancellations, so I was able to accept the engagement after all. Alexey writes very lyrically for the cello, but the work is also quite difficult – it leaps around the instrument and doesn't lie easily under the fingers. I told him so when I met him, and he just laughed! But it's a very warm-hearted work and I like challenges.
Because Alexey's concerto is written in a kind of faux 18th-century style, it fits quite nicely with Haydn's Cello Concerto in C, which I also performed during my In Classica appearance. If I could give students a piece of advice about studying the work, it would be not to think about historical authenticity, but instead about emotional authenticity. You mustn't give false messages. The Haydn is about joy, pure and simple, and if you start playing it in an emotional way and put in lots of vibrato and false crescendos, you're giving mixed messages – like a comedy actor in a tragedy, which this work absolutely is not.
Of course, performing for live audiences again after the lockdowns of the pandemic is lovely. I started by giving a series of concerts for small audiences at the Fidelio Cafe in London during the summer of last year – Bach's First and Third Cello Suites, even though I previously said I would never again play the Suites in public. It's just too scary and I get so nervous about memory lapses. But being solo works, the Suites were perfectly suited to practising during the pandemic, and also to those early small concerts. Each performance at the Cafe was really quite emotional, as not only had people been deprived of live music for months, they hadn't been allowed out at all!
For my In Classica performances I played my 1726 'Marquis de Corberon' Stradivari cello, despite the very great heat. The instrument actually copes with changes in climate quite well – and I run with it from whichever building I'm in to the car, so it's almost always in air-conditioned spaces. When I did a three-week summer tour with the Asian Youth Orchestra to Hong Kong and Vietnam in 2015, I knew my cello and gut strings were going to hate that kind of humidity, so I took my Montagnana instead. It's the only time I have played Haydn on steel strings – in that instance the D major Concerto – but I can't say I enjoyed it. I always use gut strings on my Strad.
Steven Isserlis performed works by Haydn and Alexey Shor with the Jerusalem Symphony Orchestra, conducted by Sergey Smbatyan at In Classica Dubai on 12 September 2021, broadcast by Medici TV. He also performed Shor's Seven Pieces for Piano Trio with Maxim Vengerov and Roustem Saitkourov at the festival on 30 August.
His new companion to Bach's Cello Suites is published by Faber on 7 October 2021.
Read: Sentimental Work: Steven Isserlis
Read: My Heroes: Steven Isserlis on Pablo Casals and Daniil Shafran
Listen: The Strad Podcast Episode #12: Maxim Vengerov on Ravel