French ensemble Quatuor Confluence scoop 1st prize which includes €15,000 and future concert engagements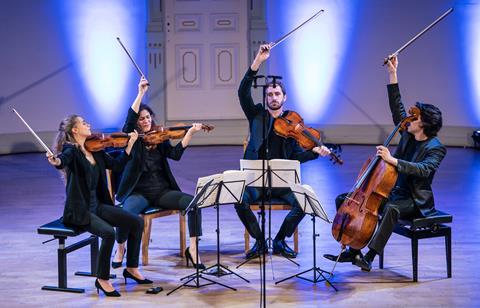 French ensemble Quatuor Confluence have won 1st prize at the final of the Trondheim International Chamber Music Competition, which was held on Saturday 25 September in Trondheim, Norway. As well as 1st prize comprising of €15,000 and future concert engagements, they also won the prize for a new commission, worth €500, and the audience prize.
The Confluence Quartet have previously won 1st prize at the Tremplin pour jeunes quatuors in 2016 and Prix FNAPEC and Proquartet Prize at the FNAPEC European Competition in Paris 2016.
2nd prize of €10,000 was awarded to the Danish-Polish NOVO Quartet while 3rd prize of €5000 went to Norwegian-Dutch Animato Quartet. Both groups were awarded the Jury special prize.
Chairman of the jury Levon Chilingirian remarked on the high level of performance in the final, 'We admire you for the courage and the mastery tonight. This applies to all the quartets that participated, not just the finalists. You are all masters of arts and can safely dedicate your life to art. Congratulations!'
Since its inauguration in 2000 the Trondheim Competition has earned an international reputation, which is reflected in the growing number of international applicants each year. Previous winners include ensembles such as The Danish String Quartet, Van Kuijk Quartet and Trio con brio Copenhagen.
Read: Merz Trio win 2021 Naumburg Chamber Music Competition
Read: 'I have never entered a competition hoping to win' - Emma Wernig