Ciardelli discusses using the double bass and a combination of theatrical techniques to explore and bring the music of Giacomo Puccini to new audiences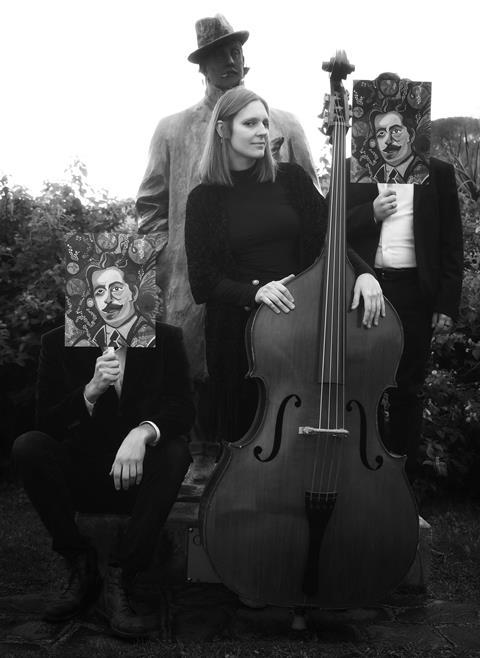 Discover more Featured Stories like this in The Strad Playing Hub
Everything started with a composer and a musical instrument: Giacomo Puccini and the double bass. Valentina Ciardelli, composer, visual artist, performer, and double bassist created How I met Puccini, a multi-disciplinary visionary project born as a YouTube series in 2020, adapting Puccini's music and poetics with the aim of bringing young people back to the opera theatre.
The 2020 pandemic forced me to start thinking as a 21st-century artist and find a way to compel the attention of the modern audience. I understood how people are naturally drawn to storytelling, and that the lack of this aspect could be a reason why some feel distant from the typical classical recital. The narrative ingredient becomes paramount, so I go on stage and tell stories while performing with my double bass along with my fellow colleagues. But why Giacomo Puccini?
My fellow citizen Giacomo Puccini came from a five-generation family of musicians and has played a crucial role as an innovator, by opening the doors to film music and musicals, inspiring composers such as John Williams and Leonard Bernstein. His outstanding symphonic quality naturally makes his orchestrations standalone, meaning they can work perfectly well even without singers. This makes Puccini's music apt to all sorts of transcriptions, both for small and large ensembles. He was a kind of theatrical wizard, Verdi himself recognised this by saying 'Giacomo Puccini is talented and he understands the trends, but what he does is not opera, it's something else'. Showing extraordinary foresight and a certain flair for business, Puccini was a testimonial for various famous brands and among the first to conceive the idea of pop single by deliberately making his arias shorter, so that they could fit in one side of vinyl records. In a nutshell, Puccini was not just an extraordinary composer, but a true modern figure. Somewhere along the line his legacy has been shut in opera houses, but I believe he can be of great inspiration, especially for younger generations.
'Giacomo Puccini is talented and he understands the trends, but what he does is not opera, it's something else'
What about the double bass?
Being my instrument of choice, it is naturally at the centre of my performance projects. It is the synthesiser of the strings family, and with almost four and a half octaves of range and a unique variety of timbre, it can act like a soprano or a bass, a distorted electric guitar or a muted French horn, creating the darkest and most threatening sounds as well as the sweetest, most tear-jerking melodies.
This instrument has been going hand-in-hand with opera for several centuries. Double bass player and composer Giovanni Bottesini devoted almost all his virtuoso repertoire to operatic paraphrases and was a proofreader, conductor and a great friend of Giuseppe Verdi. He made an invaluable contribution to the repertoire and was able to tailor the most beautiful melodies of bel canto's opera to his instrument, using it in a novel, cutting edge way. Fun fact: Bottesini and Puccini were both born on 22 December!
In the repertoire of How I met Puccini, the double bass is transformed and becomes an actor, musician, singer and integral part of the set design. Taking the cue from Bottesini, I explore all double bass registers and possible timbres also aided by the use of extended techniques.
An example is the fantasy on La Boheme for double bass and cello: The orchestra and the singers are rendered by an accurate use of polyphony, with double stops or pizzicato and arco at the same time, opening the sound of both instruments and giving the illusion of a larger ensemble. The cello here is Mimí in love, flirting with Rodolfo's memorable aria Che Gelida Manina played by the double bass. When one instrument is playing or singing the lead melody, the other is accompanying with double stops in multiple techniques (for example, left hand pizzicato plus arco, double stops, col legno plus left hand pizzicato). Everything is about recreating the colour, intention and atmosphere of the opera; the instruments become actors, ready to go on stage with different masks, dresses, roles and make up!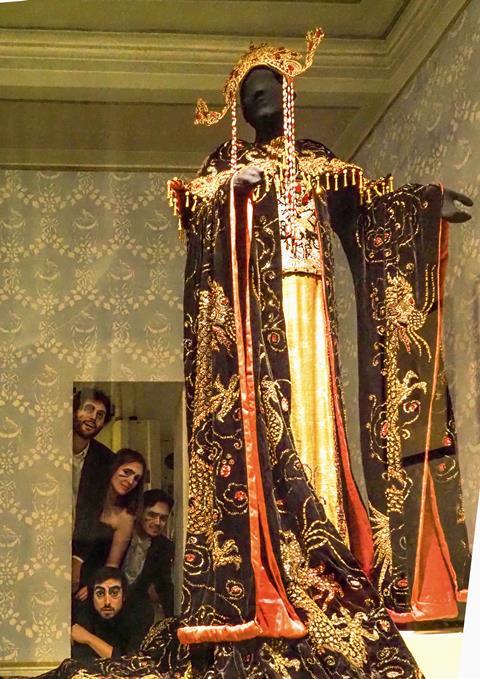 With How I met Puccini I am creating an artistic collective that combines different forms of art and communication such as illustration, musical performance, and theatre.
The artists involved in the 2020 online project are harpists Anna Astesano and Gabriella Dall'Olio , pianist Alvaro Siculiana, double bassists Manuel dell'Oglio and me, cellist Helena Svigelj, while conductor pianist and composer Stefano Teani, actors and directors Costantino Buttitta and Benjamin Balthazar Lebigre are working with me on the theatrical show How I met Puccini - Turandot non esiste out in 2024.
You can find out more about the project at www.howimetpuccini.com and www.valentinaciardelli.com
Photos courtesy Fondazione Puccini, Museo Natale Puccini and Barbara Cardini