Viola player Shiry Rashkovsky talks about creating intimacy in small, relaxed venues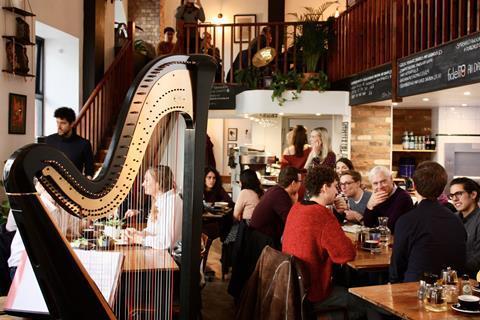 February 2020, while only eight months ago, was an entirely different world for musicians. My diary as a violist was bursting with performances in the UK and abroad, and I was most excited about the soft launch of Up Close and Musical, a new festival at Fidelio Orchestra Café in Clerkenwell of which I am Artistic Director. The launch was a truly exhilarating experience: we had managed to pack fifty people into this cosy performance space on sofas and armchairs, glasses of wine at the ready, and the enthusiasm was palpable. Intended as a pilot for the festival's unique format, in which concerts are programmed by the artists themselves as a reflection of their musical identities and include a candid interview about their lives, the event was incredibly revealing about the potency of a small, relaxed venue for creating meaningful connections with audiences in a way that is particularly relevant now that the musical landscape has changed so dramatically.
The concert was given by my string trio, Trio Klein, and we were interviewed by Raffaello Morales, Director of Fidelio Orchestra Café (at the festival in November, the interviews will be led by myself). The power of discussion in this setting was enormous: it allowed us to share a dimension of our lives as musicians that is not communicable through performance. It was refreshing to answer questions about how we rehearse (slowly), who is in charge (no-one), and how we resolve disagreements (coffee and cake, usually). It was clear that encouraging a relaxed conversation was the best way to create a rapport with the audience. Open body language, an ease of tone, and a readiness to respond to their energy, much like the way in which we respond to each other when we play chamber music, facilitated this.
Read: New concert series to launch in Clerkenwell
Read: How to put on a live concert in the time of Covid-19
Read: 'That pre-performance adrenaline rush made me feel alive again' – Guy Johnston
The significance of the venue itself in bringing audiences closer should not be underestimated. The joy of working with a venue like Fidelio Orchestra Café lies in Morales's unrelenting belief that audiences and musicians should be freed of any expectations when they walk through the door; there is no need to conform to standard conventions of clapping at a particular time, for example, and this creates an incredibly relaxed atmosphere for audiences who are then more open to connection with the performers. Misha Mullov-Abbado, who gave a series of sold-out concerts in October with his mother, Viktoria Mullova, found the experience liberating, and found that his audiences reciprocated the lightness that he himself projected.
To bring people closer to who we are and what we do is the very mission of the Up Close and Musical Festival and repertoire too is key. All artists were invited to choose a programme for the Festival that reflects their unique musical identities and works well in intimate acoustics.
While they predominantly perform in large concert halls, these artists are incredibly adaptable: Abel Selaocoe for example has a gift of expert programming to suit both big concert halls and intimate spaces, and speaks eloquently of the cultural influences that shape his musical identity in the programme of solo Britten and South African melodies which he has chosen to perform; Gabriel Prokofiev has composed pieces ranging the entire gamut from full symphonic works to classical remixes to be performed solo and which are suitable for the cosiest café environment; Misha is as at home at the South Bank as he is at Fidelio; and so on.
With big venues such as Royal Festival Hall shut or working at severely reduced capacity, smaller venues like Fidelio Orchestra Café have come into their own. Given that a return to the 2019 landscape may not be in sight for some time, and that there is much to be said for the benefits of a small venue in facilitating a direct and powerful connection between musicians and audiences, there is a strong argument for musicians to adapt to this setting, and in this sense, the musicians appearing at Fidelio Orchestra Café are all ahead of the curve. Forming a connection with the audience can and must happen even in a socially-distanced and Covid-safe environment; body language, tone and friendliness can be conveyed perfectly at a distance of 2m, and are a wonderful tonic for the chasm created by consuming almost all of our culture from behind a screen.
Up Close and Musical runs from 6-8 November at Fidelio Orchestra Cafe