Like her teacher Nathan Milstein, the Japanese–British violinist argues that technique isn't everything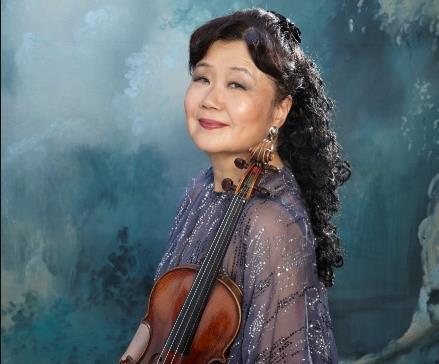 I have had two important teachers, Toshiya Eto and Nathan Milstein. I was born in Tokyo, where I studied with Eto, who had been a pupil of Efrem Zimbalist. As a result, I was fortunate to grow up with the Russian school of violin playing. I moved to London when I was 20 and I knew I wanted to study with Milstein, who was living there at the time, but there was no one who could introduce me to him. In the end, I went to the stage door after a concert he gave at the Royal Festival Hall and, to my surprise, he agreed to listen to me play. So began an association that lasted for ten years.
For Milstein, the most important things were his 'three Ts': tone, taste and technique, in that order. In a way, technique is the easiest because you can develop it with practice, but tone and taste are different. They come with your personality, and of course the great masters in those days had strong individual personalities. If you listen to a recording of one of them playing, you can tell straight away who it is. Milstein was well known for having very aristocratic taste. I found this very attractive, and it influenced me a great deal. He was strict, and, like Eto, he wouldn't let me use a shoulder rest. The only way to become a good player, Milstein said, was to be highly disciplined and critical of oneself. He was a very demanding teacher, and I never lost the feeling that I had a big responsibility not to waste his time. Quality was always more important than quantity – his advice was to take on fewer performances and play to the highest standard possible.
Read Life Lessons: François Rabbath
Read Johan Dalene: Life Lessons
Read Nancy Green: Life Lessons
Young violinists today often have a very sophisticated technique, but control can sometimes come at the expense of emotion. It isn't often you hear a truly heartfelt performance these days – emotion is regularly lacking. The notes are perfect, in a way, but they leave you stone cold. The day I gave my debut recital at London's Queen Elizabeth Hall, Milstein was away on tour in Germany so couldn't come, but he managed to send a telegram that reached me while I was backstage. It contained only one sentence: 'Play with affection.' I've never forgotten those words. Without affection it's impossible to move your audience. Putting heartfelt emotion into your playing is the only way to create a beautiful performance. Beauty was another priority for Milstein that some people seem to have forgotten about today.
Interview by Tom Stewart
Hideko Udagawa's new recording of music by composers including Glinka, Glière and Glazunow, 'Nostalgic Russia' , is released on Northern Flowers on 9 April
This article was published in the April 2021 David Garrett issue

The German violinist talks about making the most of his composition skills, and maintaining a balance between classical and crossover careers. Explore all the articles in this issue . Explore all the articles in this issue

More from this issue…