The British cellist reflects on transformative experiences in the US and returning as a teacher to his old student haunts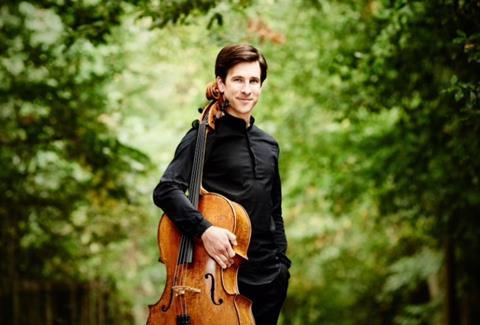 I remember spinning my cello around during a lesson with my first teacher when I was about five. I accidentally let go, which taught me pretty quickly that the instrument was a fragile being. To make matters worse, my mum and I bumped into her again a couple of years later, after I'd changed teachers. She asked me how my new tutor was and I, not recognising who it was, answered, "Oh, much better than the last one!" I've had lots of teachers: Nicola Anderson and Amanda Truelove when I was still a chorister, then Alberni Quartet cellist David Smith at Chetham's in Manchester. A turning point for me came when I was 15 and, at David's encouragement, my parents sent me to Tanglewood on what was my first trip to the States. I was completely swept away by all the music making there, not only playing big symphonies and chamber music but also hearing the Boston Symphony Orchestra and artists such as Yo-Yo Ma, Itzhak Perlman and the Guarneri Quartet. It was a transformational experience.
I went back to the US to study for my undergraduate degree with my great mentor – and now colleague at the Eastman School of Music – Steven Doane. Steven had been a student of the formidable Jane Cowan, an anti-establishment figure who had been a pupil of Feuermann and Casals and who used to take charge of her students' entire education. Nicholas Jones, David Waterman and Steven Isserlis are other former students of hers who I've learnt a lot from over the years. I've been very fortunate to have such wonderful teachers from such a unique heritage.
Read: 'That pre-performance adrenaline rush made me feel alive again' – Guy Johnston
Read: 'When we spoke, it was as if I had known him all my life' – Guy Johnston on Anner Bylsma
Doing more teaching has forced me to go back to the drawing board and think about the physical foundations of playing. I'm reading Ivan Galamian's Principles of Violin Playing and Teaching and other historical treatises to find out more about the development of instrumental technique and the way it shapes how we play today. I have 15 students at Eastman – each of them is a completely distinct character and it's a challenge to make sure you're communicating in a way that works for them. Hearing their growth and development has become a bit of an obsession for me, but it's a two-way thing. I'm learning a tremendous amount from them, and unlocking doors to information stored in my own mind has reminded me how we stand on the shoulders of giants.
In June an invitation came out of the blue to perform alongside pianist Melvyn Tan in the series of live lunchtime broadcasts from Wigmore Hall. Although there wasn't an audience, walking out on stage made me feel so alive and gave me a renewed sense of purpose. When lockdown began, my initial reaction was one of relief that I'd have a chance to finally do some of the things I'd always been too busy to get round to. However, being back at Wigmore gave me a whole new perspective on performing and, without wanting to sound clichéd, we need music now more than ever.
Interview by Tom Stewart
This article was published in the November 2020 Dover Quartet issue

The American ensemble on recording a new Beethoven cycle and inspiring the next generation of chamber musicians. Explore all the articles in this issue. Explore all the articles in this issue

More from this issue…