The Strad's editor Charlotte Smith introduces the February 2021 issue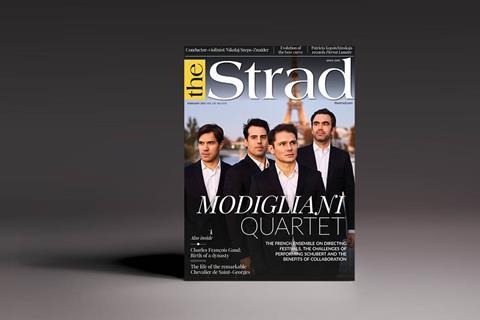 Few string quartets perform as readily with musicians outside the central ensemble as does the Modigliani. Of course, the members of any successful quartet must be adept at working collaboratively, but the staggering array of repertoire for two violins, viola and cello – plus the need to feel the music as one – can sometimes lead to an insular mindset. For the Modigliani players, however, inviting other artists into the mix is 'an important means of nourishment', and one that takes on special significance as the French foursome gear up to celebrate the works of Schubert in honour of the composer's 225th birthday next year. Broadening their horizons by working in larger chamber formations, and with those from other areas of the arts, is particularly meaningful considering the social distancing enforced by Covid-19 lockdowns throughout 2020, as the players tell Charlotte Gardner on page 24.
An artist who refused to be limited by the conventions of his time was the Chevalier de Saint-Georges, the late 18th-century virtuoso violinist, composer and champion fencer. The son of a wealthy French plantation owner and an African slave, Saint-Georges achieved substantial acclaim during his life, yet for the next 200 years languished in relative obscurity. Interest in his career again grew in the 1970s, but as Kevin MacDonald writes on page 60, his compositions remain largely – and unfairly – ignored to this day.
This French-themed issue also explores the life and work of Charles François Gand, who had a huge influence on the Parisian violin trade despite his own comparatively small output as a luthier. Florent Boyer gives an in-depth analysis of his instruments on page 32. On page 52 Paolo Sarri looks at how modern bows developed their distinctive curves – and their crucial impact on playability. And on page 42 Andrew Mellor catches up with conductor–violinist Nikolaj Szeps-Znaider, who speaks about contending with the pandemic during his first season as music director of the Lyon National Orchestra.
Charlotte Smith editor
Email me at thestrad@thestrad.com or tweet @TheStradMag