The London-trained duo performed at the Amsterdam Cello Biennale on 24 October. Bella Clifford spoke to them about friendship, rivalry and crossing the non-classical divide.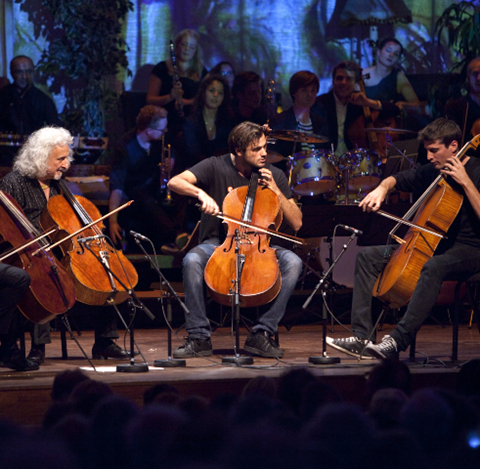 LUKA ŠULIĆ
We met when we were about 14. We were both crazy about cello, passionate about music, and practising really hard. We were good friends but we both wanted to prove that we were more talented than each other. We didn't see each other for a long time because we were studying in different places, but we followed each other's careers through the internet and occasionally met up. When I first moved to London, Stjepan and I would go for long night-time walks by the River Thames, talk and make plans. It was during these walks that the idea for 2Cellos and our first video, of us playing Michael Jackson's Smooth Criminal, were dreamt up.
We both grew up listening to classical music and were fairly isolated from everything else, so when we started discovering non-classical music together, it was totally fresh and new. We tried to channel that excitement into our arrangements: when we start a new piece, we usually improvise around it and then we switch parts to make it interesting. I also tune my instrument differently from Stjepan – I tune my C string down to G to have more bass, so I'm usually playing bass-lines and rhythm parts.
When we're playing solo classical music our repertoire choices are quite different. Stjepan likes to pick slow, popular pieces that everyone knows, whereas I'm attracted to less well-known repertoire. If I'm able to find time to practise, I often try to choose faster pieces to keep my fingers in shape.
I bought a carbon-fibre cello two years before moving to England. Stjepan liked it so much he bought one as well. We decided to use them for our videos because they're black, they look cool and they're different. They also match the fake leather jackets we wear! After seeing our Smooth Criminal video, Elton John contacted us to ask if we would come on tour and open for him, and his people suggested that we should try electric cellos. We've found they work much better for our live shows than acoustic cellos with microphones.
We always aim for a mix of classical and non-classical playing. Sometimes we split our shows: the first half we play classical music with an orchestra, and then for the second half, we perform our 'rock show'. We did an arena concert in Zagreb recently where we had an audience of 12,000 people all listening to classical pieces, and it was so silent it was really magical. Then we also show rock and roll to the classical people: we've just been at the Amsterdam Cello Biennale, where we played AC/DC's Thunderstruck with Mischa Maisky and Giovanni Sollima, which was a dream come true. (See photos)
STJEPAN HAUSER We always wanted to play together, but we were studying in different cities at first, and later on in different countries, so there was never a chance to. It was only three years ago that we could finally start working together, when Luka moved to London to study.
When we were in Croatia, the people following our careers considered us to be big rivals. We were always great friends though – as soon as we met we felt a strong kind of camaraderie. There's still some rivalry, but in a healthy way: we push each other to be better and better. On stage we make each other play to a higher standard.
Luka and I definitely have a good guy/bad guy dynamic when we're playing. I'm the bad guy, because my playing is very wild and free. Luka is more elegant – he plays with dignity, he's very stylish and his playing is intuitive. He's more introverted and I'm more of an extrovert, but I think that's why we work well together.
There isn't much time for us to practise nowadays because we're travelling all the time, and you have to fit it in between soundchecks, concerts, and travelling on to the next city after the show. We spent our whole childhoods practising, but now concerts are where we improve, on stage. It's a different kind of practice now.
Sometimes we disagree about which pieces we should play, or how to approach playing them. It's like being in a marriage – you have to compromise! It's intense, as we are together 365 days a year, 7 days a week, 24 hours a day. It's a miracle that we work so well together.
We've been so lucky and honoured to be able to work with all these great personalities. We've played with Elton John, the Red Hot Chili Peppers, Lang Lang, Andrea Bocelli, and Steve Vai. It seems unreal but we forget about who they are. We just enjoy playing with them and try to connect on a personal and musical level.
2Cellos perform with Mischa Maisky and Giovanni Sollima at the Amsterdam Cello Biennale.