Cellist Benedict Kloeckner examines six commissions for solo cello composed during the first lockdown, each of which took inspiration from Bach's Cello Suites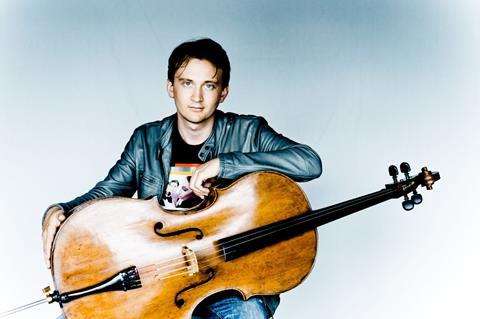 It is especially exciting for a performer to collaborate with great living composers.
During the first lockdown I commissioned six composers from six different continents to write a piece for solo cello. I wanted them to create a musical reaction to the worldwide crisis and to create a dialogue between the music of our time and the Bach Cello Suites, works that were written 300 years ago.
It was fascinating to observe their different approaches and working process.
Dai Fujikura wrote a piece called Sweet Suites inspired by several Bach Suites and quotes them in a subtle way, developing motivic material into new fascinating sound landscapes oscillating between the old and the new musical world. It ends with a touching coda, fading in high harmonic double stops, real 'sounds of light'.
It was a real challenge developing the skills to play double-stopped harmonics in thirds at high speed. Concentrated bow speed and a firm hold on the first finger helped to create this fascinating sound landscape.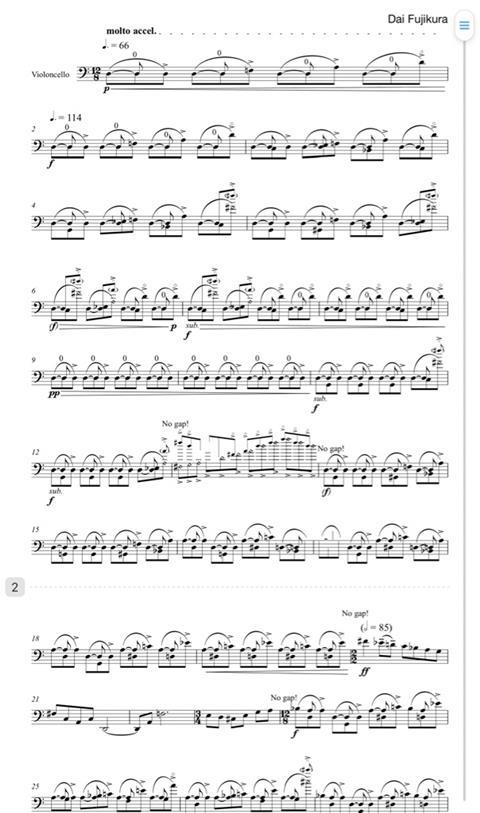 The composer José Elizondo was particularly inspired by the Gigue in Bach's Cello Suite no. 6, and even incorporated some quotes from that piece in his composition Under the Starry Sky of the Rhine. In his attempt to include other elements that referenced my homeland Rhineland-Palatinate, he was captivated by the evocative landscapes and medieval castles of the region. The composer imagined a medieval knight riding a horse through these epic landscapes under the starry sky of the river Rhine. The gallant gallop is sometimes punctuated by moments in which the knight, moved by the beauty of nature, stops his ride to engage in contemplation.
It was fascinating to work with José, also discovering his different layers of writing and inspiration. The main motive of the piece is based on the rhythm of my name and there are many other 'secret' hints which aren't revealed at first sight.
Finding the right tempo is also an interesting topic to work on with a composer. Pieces of music tend to be faster in the imagination of the composer while composing than what they expect it to sound in reality. I remembered Daniel Barenboim telling us about his experience working with Pierre Boulez, describing this phenomenon.
So in the case of Under the Starry Sky of the Rhine it was important to find a tempo which made sense in both the singing and virtuosic passages.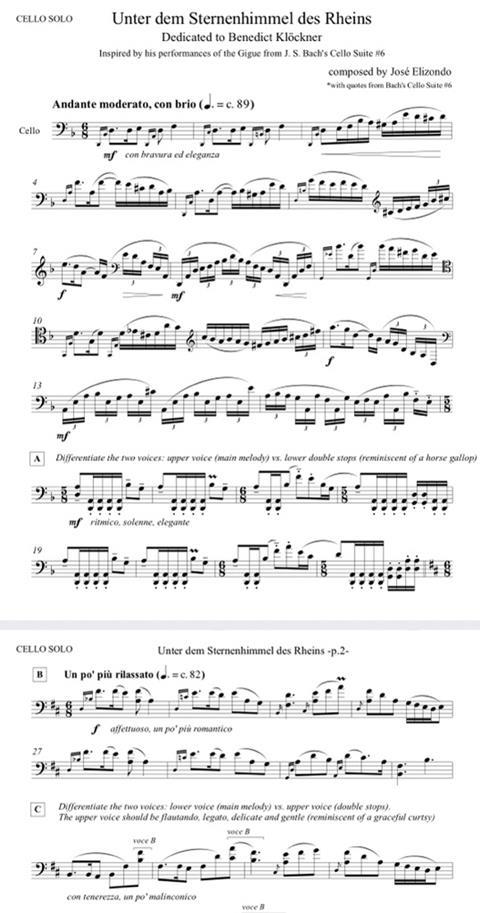 The first to finish their piece was French composer Eric Tanguy, who wrote a piece called In Between. He explains, 'the context of the pandemic is important, between this several waves and the uncertain times everybody was going through. This short work for solo cello expresses these feelings between uncertainty and hope.'
It is very expressive music and very well written for the cello. I learned to expand my dynamics from softest piano to most martial fortissimo.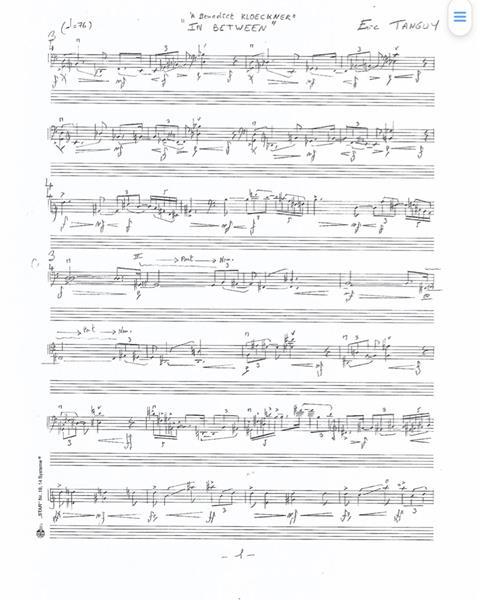 Bongani Ndodana-Breen's music is a blend of African and western-classical styles.
His mini-fantasia Soweto Riffs was an attempt to entice the cello into the buzzing, scintillating, rough urban nightlife of Africa. It illustrates an imaginary joyride in a matatu minibus taxi, echoes of South African township electric guitars, hints of West African highlife music, early morning after a night of revelry in Mombasa, joie de vivre amid an urban slum. Soweto Riffs plays with imitations of fragments from various strands of African popular music, they are disjointed, truncated and dispersed through the entire range of the cello from the lowest open string to the extreme upper range of the instrument.
It was great to discover the sounds a cello can produce, imitation African hip-hop and pop. A very smooth legato, high bow speed and small intense vibrato helped creating this very specific sound!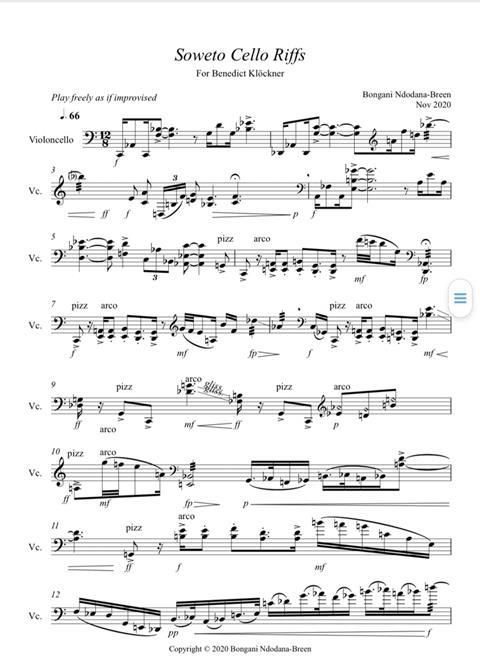 Australian composer Elena Kats-Chernin's music is vibrant and distinctive. Her idea was to compose a piece called I am Cello, that is 'almost' a song and tells 'almost' a story was born really quickly. She explains 'it is also "almost" a waltz, but a slow one. I see this piece like a flower bulb that opens up over the course of 2-3 minutes. Benedict sent me his first reading of the piece the day he received the score. This was such a gift to me at the time of no performances. The process of exchanging files between us followed over the course of a couple of weeks. Having an opportunity to adjust a piece in this fluid situation is a favourite way for me to develop a work.'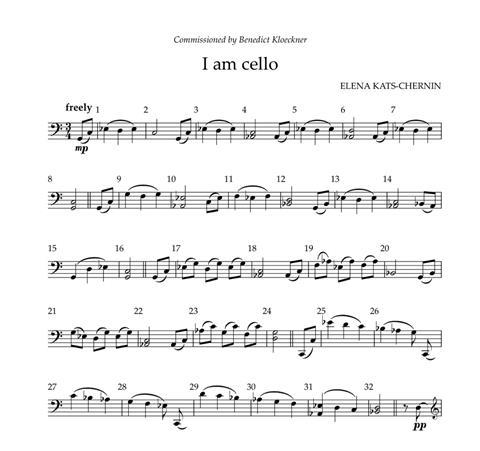 Composer Geoffrey Gordon undertook deep research into the history of pandemics before he started composing his fantastic piece Nes qu'on porroit.
He explains,'Iterations of the Black Death began striking Europe around 1350, when about one quarter to one-half of the European population was killed by the plague. Responses ranged from panic to abject grief to a kind of hedonistic abandon.
'Not surprisingly, artists reacted as artists do – by creating works which expressed the full range of emotions inspired by this dire situation. One of these artists – and plague survivors – was composer Guillaume de Machaut, of France. He began to explore the creation of secular musical forms even before the plague, writing poems and setting them to music. After the worst of the plague subsided, this musical style, based on the already established verse-poetry forms, gained popularity. By 1365, the ballade had become one of the most popular secular song forms. And Machaut composed a lot of them.
'One of the most beautiful comes from his story Le Livre dou Voir Dit, and is titled Nes qu'on porroit. The text of this work – not the music – inspired this work for solo cello, in particular, the reference to separation, and the longing to reunite after an extended period of quarantine.
'Other plagues would follow, including the Italian Plague of 1629–1631, and the Spanish flu – which took as many as 100 million lives worldwide – from 1918–20. The works of composers who lived through these tragic events – some who survived and some who did not – provide the musical inspiration for this work. Phrases are woven into and across this score, intertwined with my own, in what I hope is a textured collage capturing the essence of the pain and power and loss and perseverance of these events across so many centuries.'
It is a masterful work with great challenges. We experimented to find the best way to play a three-part chorale on a cello. Humming one voice, playing two others on the cello: it can be surprisingly difficult to find the right balance between the voices!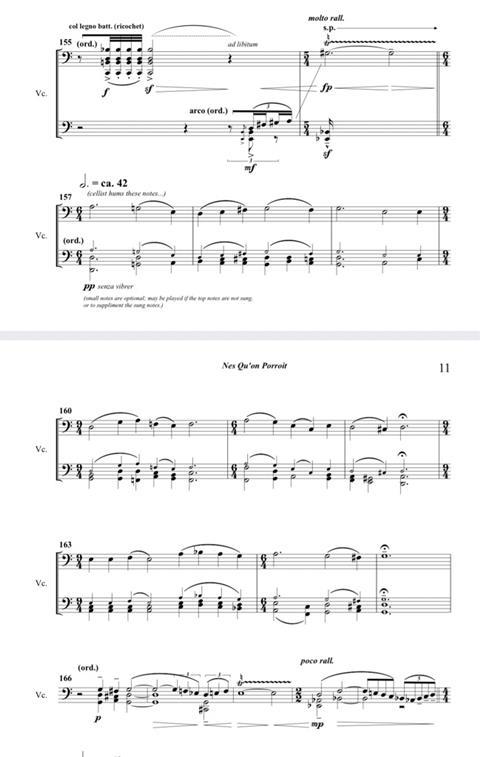 It was a fantastic experience to observe the working processes of six completely different composers and to see their variety of style and expression. I would love to encourage everybody who has the possibility to commission and play new music and to discover and present this mirror of our time!
Benedict Kloeckner's album 'Sounds of Light' was released in October 2021 on Brilliant Classics.