The Strad's editor Charlotte Smith introduces the August 2021 issue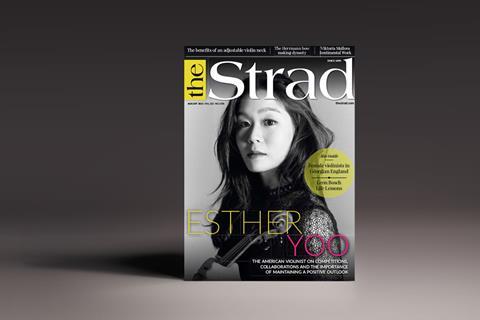 For most musicians, living through the pandemic has been a difficult and testing experience. Certainly, many players have embraced live streaming opportunities, found original ways to perform in unorthodox spaces, and used the challenges of online teaching as a chance to improve their own skills – but there's no denying the hardships of cancelled concerts and collaborative projects. In March 2020, Esther Yoo's packed diary of engagements was suddenly wiped clean, and the American violinist readily admits that for her, like many of her colleagues, 'it felt very dark – as without music, we had no outlet for our feelings'.
Yet the multi-competition prizewinner has always worked hard to maintain an optimistic outlook, and to find 'positive solutions' to any issue. During this past year, locked down in her parents' home city of Seoul, Yoo has spent her time studying remotely at London's Royal College of Music and establishing relationships with local and national orchestras. As restrictions ease, and she is able to return to tours and recording projects with the Royal Philharmonic Orchestra and her ZEN Trio, she does so eager to explore 'different formats and environments of music making' and to share insights with her loyal online audience, as she tells Amanda Holloway on page 22.
Yoo hopes musicians will emerge from the pandemic keen to shake up established performing practices – and this month's issue includes several innovators who have done just that. On page 28, Joseph Curtin examines changing methods of instrument neck setting from the Baroque era to the present day, and encourages his fellow luthiers to join him in designing fully adjustable necks for players of the future. Then, on page 48, Kevin MacDonald delves into the lives and careers of trailblazing female violin soloists in 18th-century England, taking as his starting point a portrait of a violinist who, it turns out, was a leading light of Georgian London's musical scene. Both articles remind us that our industry has never been a conservative one, and that we can meet every new challenge with creativity and fortitude.
Charlotte Smith editor
Email me at thestrad@thestrad.com or tweet @TheStradMag