The Strad's editor Emma Baker introduces the April 2022 issue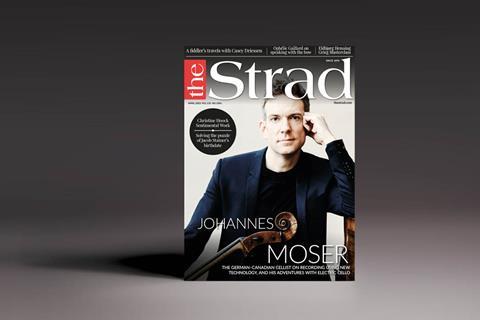 Johannes Moser isn't afraid to challenge both himself and conventional musical thinking. As well as being a world-class cellist and collaborative musician playing the core repertoire, the German–Canadian soloist is known for playing the electric cello, an instrument that offers both unexpected freedoms of expression as well as challenges to overcome. As he reveals on page 26, his latest project involves recording in spatial audio – a system that relays sound to the listener in a three-dimensional way that's usually found in gaming headsets or at the cinema – on both acoustic and electric instruments.
On page 34 we examine the fascinating story of Jacob Stainer, the leading luthier of the Austro–German school in the 17th century, and the attempts to solve the mystery that surrounds his real birthdate. This intriguing detective work has involved the analysis of Stainer's handwriting as well as historical documents from an investigation into heresy by the Episcopal Inquisition.
More than four hundred years after Stainer's birth the German lutherie tradition has spread its influence around the world. On page 42 we discover the story of pioneering luthier families from Markneukirchen – the Schrötters and the Roths – who sent sons across the Atlantic in the mid-20th century to set up workshops in the US. Andrew Schroetter and Heinrich Roth both grew very successful businesses, particularly supplying the burgeoning post-Second World War demand for high-quality but affordable instruments, and their legacies endure to this day.
Away from the German theme for this issue, in 2019 the American bluegrass fiddler Casey Driessen undertook a nine-month journey through seven countries to discover local musical traditions, and on page 48 he shares with us his travelogue. At a time when few of us have been able to travel freely, and with terrible events unfolding in Ukraine as I write, Casey's snapshot of cultures and peoples sharing musical ideas in mutual peace and harmony is very welcome indeed.
Emma Baker editor
Email me at thestrad@thestrad.com or tweet @TheStradMag
Find the digital edition of the magazine here.
Also in this edition:
In Focus: A 1661 viola by Enrico Catenar
Trade Secrets: Stefan Krattenmacher presents his method for installing 'Baker-style' fine tuners
My Space: Mittenwald maker Rainer Leonhardt
Making Matters: Why luthiers might find it useful to class players into various 'types'
Masterclass: Eldbjørg Hemsing on the first movement of Grieg's Violin Sonata no.2
Technique: Cellist Ophélie Gaillard gives tips on how to improve your bowing technique
Life Lessons: The memories and opinions of American violinist Anne Akiko Meyers
Opinion: Eliciting feedback from students is an important – and overlooked – part of teaching
Postcard from Paris: The 2022 String Quartet Biennale at the Philharmonie de Paris
From the Archive: From April 1902
Sentimental Work: Double bassist Christine Hoock shares her love for Mišek's Sonata no.2