Dennis Rooney hears a performance of Prokofiev, Beethoven and James Lee III at Shriver Hall, Johns Hopkins University, Baltimore, on 19 June 2022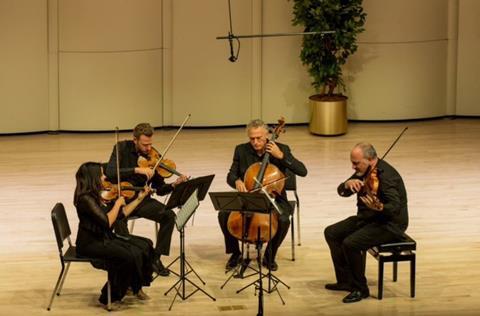 The Pacifica Quartet opened its concert with Prokofiev's String Quartet no.2 op.92, giving a bracing, colourful account that displayed the range of moods of this 1941 work, composed after Prokofiev had been relocated to Kabarda in the North Caucasus. There, the composer was encouraged to write a work that made use of Kabardinian melodies and rhythms, which he duly accomplished within a traditional three-movement structure. The strongly rhythmic outer ones are balanced by the lyrical Adagio, whose yearning folk song contrasts with a brief scherzando section. Prokofiev's borrowing of traditional melodies results in music tinged with local colour but far more serious in its purpose and virtuosic in its effect. The virtuoso writing in Beethoven's Third 'Rasumovsky' Quartet op.59 no.3 was negotiated with equal panache and brought the programme to a rousing conclusion.
In between, soprano Karen Slack joined the Pacifica players for the world premiere of A Double Standard by James Lee III (b.1975), which sets poems drawn from a collection of the same name by the African-American poet, abolitionist and teacher, Frances Watkins Harper, a Baltimore native. The texts are almost unrelievedly angry, and the settings had insufficient contrast, with little compelling lyricism. The work may have topical interest, but the likelihood of it turning up on a programme a decade hence is doubtful. The performers, however, showed their commitment in every bar.
DENNIS ROONEY
Photo: Caitlin Oldham | Arts Laureate.